Cell phone towers raise new concerns about safety
Posted:
Updated:
RF Engineer Marvin Wessel inspects a cell phone tower. (Source: CBS 5 News)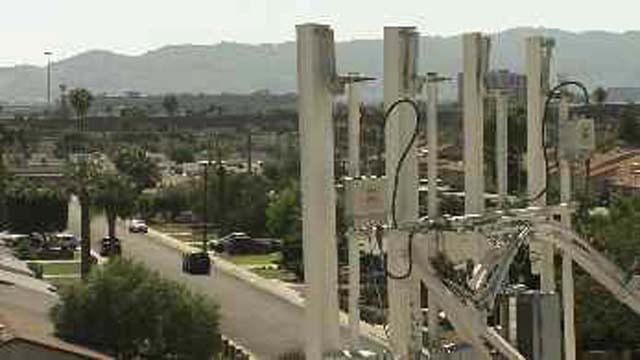 (Source: CBS 5 News)
It's a growing concern in the Valley and across the country.
All those cell phone towers popping up on buildings and rooftops.
CBS 5 has found that many of those towers violate federal safety rules intended to keep people safe.
Federal studies show the powerful RF radiation that the towers send out is not harmful to anyone on the street and beyond a few feet.
But what about someone doing work, or standing right in front of an antenna?
Sherrie Anderson manages a Phoenix office building, which happens to have a few cell phone towers on the roof.
"When you have no guidelines, we're basically just throwing the dice with our health and safety," said Anderson.
Anderson told CBS 5 that the companies who installed the cell towers have never given them any safety instructions, or provided any guidelines for maintenance workers, who may be exposed to high levels of electric and magnetic power.
"If you're putting floor polish on, there's an OSHA standard," said Anderson. "If you're doing electrical work - there's an OSHA standard. We have no standards - no protocol. Basically, we're just up there blind."
Engineer Marv Wessel, with RF Solutions, has inspected thousands of cell phone antenna sites across the country.
He said that many of the antenna sites he's seen, have emissions well over the federal safety limits.
"The license holders are ultimately responsible - its their responsibility," said Wessel. "When they get a license they must ensure that the rules are followed, and if that's not happening, ultimately, they're the ones that would shoulder the blame."
But there's a problem.
Not all cell phone carriers make the necessary steps to protect the public, and insure that workers, or anyone else are not exposed to RF radiation.
Studies have shown that RF radiation can cause neurological problems and other health issues, including cancer.
Wessel showed CBS 5 another site, in a community near Camelback Mountain in Phoenix, where residents and maintenance crews can walk right by the antennas.
The only thing keeping people away was a plastic chain and some pvc pipe.
According to Wessel, the FCC doesn't have the time or manpower to inspect these sites, or respond to complaints.
Wessel even called a phone number listed on one of the cell towers, to say he'd be working close by and ask about any safety concerns.
"As long as I wasn't working on their equipment they didn't seem too concerned," said Wessel. "I was fine to go anywhere I wanted on the rooftop."
T-Mobile released this statement:
"All of us at T-Mobile take the safety of our partners, customers, the public and our employees very seriously. We have a robust compliance program that we continually update as wireless technology evolves. We check and audit sites on an ongoing basis to help ensure they remain in compliance."
Sprint released this statement:
"Sprint takes great lengths to comply with the FCC's regulations in this area. This includes an annual review process to ensure all of our sites are compliant with the Commission's rules on RF exposure limits, including signage and barriers. We've also instituted additional sites reviews with our Network Vision installations to certify the compliance of this new infrastructure."
Copyright 2014 CBS 5 (KPHO Broadcasting Corporation). All rights reserved