CBS 5 INVESTIGATES
Immigration checkpoints catching more drugs than people
Posted:
Updated: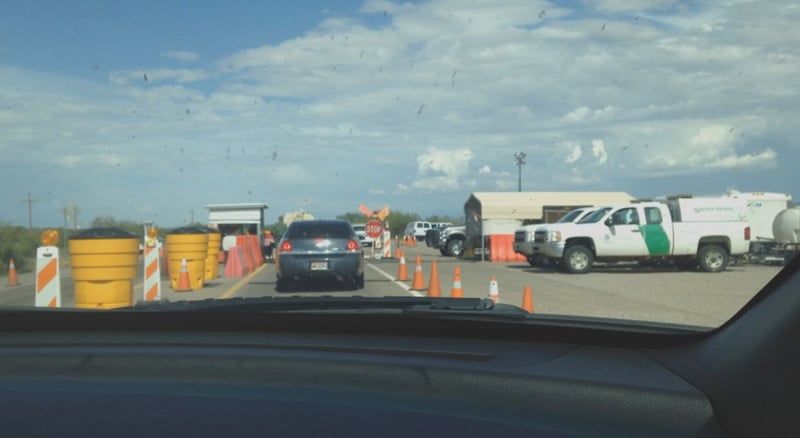 PHOENIX (CBS5) -
The few independent studies about the effectiveness of immigration checkpoints appear to show they catch few illegal immigrants, but are responsible for the seizure of tens of thousands of pounds of drugs.
But the hassle and occasional suspicion less searches are creating growing discontent among the people who live near the checkpoints, or have to drive through them on a regular basis.
"Any time we leave our tiny community, we pass through a border patrol checkpoint," said Leesa Jacobson, who lives in the town of Arivaca, which is located 25 miles north of the Arizona border with Mexico.
Jacobson and a few volunteers have been monitoring three nearby checkpoints for months, trying to determine who the Border Patrol is detaining, and why.
"They're very closed, " said Patty Miller, another Arivaca resident, describing what little information the Customs and Border Protection, or CBP, releases about its checkpoints.
"It was sold to the community as a temporary tactical measure. That was seven years ago," Jacobson said.
CBP does not release information on the total number of checkpoints in the interior of the country, but there are at least 11 in Arizona, with more in Texas, New Mexico and California. By statute, CBP has the authority to operate interior immigration checkpoints within 100 miles of any external border of the United States. That encompasses nearly two-thirds of the US population.
"The Border Patrol does have limited authority at these checkpoints," said James Lyall, who is a staff attorney with the ACLU in Tucson.
He said he receives complaints every week from US citizens complaining about their treatment at checkpoints.
Complaints include searches, detentions and questions that do not relate to immigration issues, according to Lyall.
"People are not supposed to be searched. They're not supposed to be asked about things that have nothing to do with verifying their residence status," Lyall said.
What little information is released about individual checkpoints appears to show they do not result in many arrests of illegal border crossers.
A government accountability office audit released in 2009 revealed that fewer than two illegal border crossers were apprehended per day, at the temporary checkpoint along Interstate 19, north of Nogales.
The audit states that checkpoints accounted for less than two percent of the total apprehensions in the southwest, during the years 2008-2009, but they were responsible for 35 percent of the agency's drug seizures.
Critics contend that despite the Border Patrol's stated purpose of immigration control and preventing terrorists from entering the country, in practice the agency is a drug interdiction police force.
"Really, what they're increasingly doing, especially at these checkpoints, is targeting ordinary Americans," Lyall said.
One needs only to browse the videos on YouTube to get an idea of how some Americans react when they are questioned.
Robert Trudell has been video taping his experiences at checkpoints for more than a year. In one video, he refuses to roll down his window for an agent.
The agent eventually shatters the window and pulls Trudell out of the car.
You can see the video here.
"They seized everything I owned and held all of my camera equipment, computer, my business phone," Trudell said. "They're overstepping their bounds."
Even some members of Congress said they are not sure whether the checkpoints are worth their cost and negative effects on the communities where they are located.
"I, myself, have questioned the validity in the past of the utility of building these massive fixed checkpoints in the interior. We've seen them go up in southern California and it's tough to justify, given the number of people who are caught," Sen. Jeff Flake said.
Customs and Border Protection released the following statement to CBS 5 Investigates:
"Border Patrol traffic checkpoints are a critical enforcement tool for carrying out the mission of securing our nation's borders against transnational threats. Checkpoints deny major travel routes from the borders to smugglers intent on delivering people, drugs and other contraband to the interior of the United States and allow the Border Patrol to establish an important second layer of defense.
In regards to individual complaints, we look to quickly and satisfactorily resolve any complaint that we receive. You may enter information relating to complaints, compliments and questions specific to a station through the CBP Ingo Center by the following means:
1. Toll-free line 877-227-5511
2. Contact a supervisor at the Border Patrol Station that covers the area in which the complaint originated.
3. Online at the link below. Complaints can be submitted anonymously or one can request a review and response. In addition, frequently asked questions can also be found at this website. https://help.cbp.gov/app/home
In addition, we are dedicated to continued meetings with local representatives and community members throughout southern Arizona to address their concerns and will continue to diligently protect and secure America's borders by upholding authorities within the context of the U.S. search and seizure laws that regulate checkpoint operations."
Copyright 2014 CBS 5 (KPHO Broadcasting Corporation). All rights reserved.