Arizona woman battles 2 cancers in 1 breast
Posted:
Updated: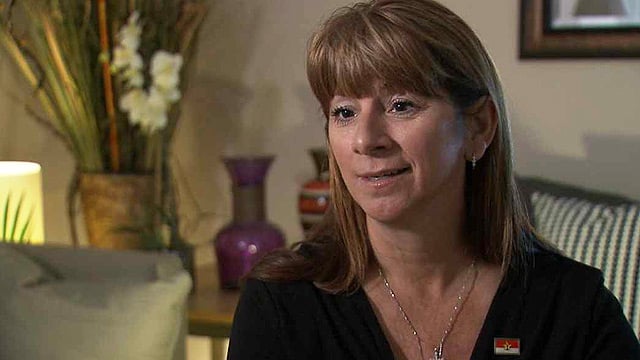 Laura Sutton, of Prescott Valley, has been diagnosed with two distinct different types of cancers in the same breast. (Source: CBS 5 News)
PHOENIX (CBS5) -
One in nine women will develop breast cancer at some point in their lifetime.
Though the number of breast cancer cases has increased, experts said the survival rates are improving.
One Prescott Valley woman is hoping to raise awareness of the disease by sharing her story of being diagnosed with not one, but two types of breast cancer in one breast.
"I was sad. I was heartbroken. But it's life. It's part of life and I'll get through it," said Laura Sutton about her reaction to finding out she has breast cancer.
It's a diagnosis she admits she expected.
"It wasn't a matter of if it was going to happen to me it was a matter of when it was going to happen," she said.
That's because Sutton had already had six benign biopsies. Her mother is a 10-year breast cancer survivor so Sutton is considered at high risk for developing the disease. But she wasn't prepared to find out she had not one but two types of stage-one breast cancer in one breast.
"I didn't know first of all, you could have two different kinds on the same side of your breast so I was very taken aback," she said.
It is a rare occurrence, according to Dr. Albert Wendt, Sutton's oncologist at the University of Arizona Cancer Center at Dignity Health in Phoenix.
"Maybe less than 1 percent of patients will actually have two distinct different types of cancers in the same breast," he said.
In Sutton's case, one type is common, with an 18 percent chance of recurrence.
The other type is more aggressive, with a 34 percent chance of recurrence.
The treatment approach to each is different.
"It can come back, but if you do the steps; chemotherapy, radiation and a hormonal pill for seven to 10 years it lessens the chance," Sutton said.
Sutton, well-known in military circles for her volunteer work with veterans and military families, is opting out of chemotherapy. She believes it wouldn't really improve her odds of recurrence but could damage a heart condition she already has.
"I will be more at peace once I get through this and I know I will get through this," she said.
In the meantime, she's encouraging women to do their breast-self exams and get regular mammograms.
"Please do your mammograms even if you don't feel anything, because as I went in and didn't feel anything, they found something," Sutton said.
Sutton has started her radiation treatment.
Click her blog to follow her progress.
Copyright 2014 CBS 5 (KPHO Broadcasting Corporation). All rights reserved.