DCS addresses why foster kids are sleeping in state office buildings
Posted:
Updated: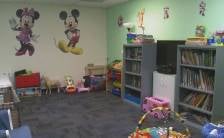 PHOENIX (CBS5) -
CBS5 was able Friday to get a first look inside Department of Child Safety offices where children as young as 2 years old are sleeping on some nights.

The CBS5 report Thursday night first exposed this stop-gap measure and the practice has apparently been ongoing.
The foster care system in Arizona is overloaded, according to DCS employees and non-profit groups that work to help foster children.
This year so far 11 percent more kids are being removed from unsafe homes. There are more than 16,000 kids statewide in foster homes or group homes right now.
Because most of those homes are at capacity, some kids end up sleeping inside a dozen or so DCS office buildings throughout Maricopa and Pima counties.
"In the 17 years I've been here the biggest shock to me is when we bought cribs," says DCS program manager Gene Burns.
Burns supervises the DCS after-hours units. When kids are removed from unsafe homes they are initially brought to the closest DCS office. They stay until suitable foster families or group homes are found. However, if those are full, and that's been happening a lot, there's nowhere else for those kids to go.
"Its not ideal. The most ideal place for a kid to sleep is with a family. We are not a family," Burns said. "We have tried to make do with what we have. We have volunteers that bring in and donate food. We have beds here. We have cribs. We have a washing machine and dryer. We have a shower. This is not the place to put a kid."
Kids are sometimes sleeping on cots placed between cubicles in the office.
The word is going out to potential foster families that the state needs more space for kids.
There's been emergency solicitations out to expand the number of group home beds.

"The last week we only had five kids. Five to six girls spending the night where we've had considerably more," Burns said. "We want kids in a family setting. We obviously need placements for children in the community."
Burns says the situation has improved somewhat within the past month. Fifty to 60 more beds have recently opened up at group homes.
Case aides and child protection specialists volunteer to work overtime to help look after these kids on weekends or after hours.
The agency is desperate for more foster families to step up.
Copyright 2014 CBS 5 (KPHO Broadcasting Corporation). All rights reserved.