New
Rally planned to protest firing of AZ teacher in bullying flap
Posted:
Updated: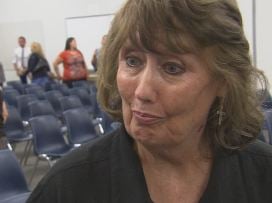 © Pam Aister (CBS 5 News)
FOUNTAIN HILLS, AZ (CBS5) -
An online group plans to stage a rally on Saturday to protest the firing of a Fountains Hill school teacher amidst a flap over bullying.
Pam Aister spent 25 years as a teacher in the Fountain Hills Unified School District.
On Sept. 29, she lost her job as a fourth-grade teacher at Four Peaks Elementary School.
Saturday's rally organized by "Stand with Pam!" is set to occur at the Fountain Hills Unified School District offices at 16000 E Palisades Blvd. from 10 a.m. to noon.
The incident that led to her removal happened in May, when Aister said she defended an African-American student who was being bullied by five other boys who'd bothered him in the past.
Aister said she was suspended in May, and when the district moved to fire her over the summer, she appealed.
During a special meeting last month, Aister told the district's governing board what she said to the students, "Student 11 (bullied student) is in my room now. He is not alone. When you pick on him - you pick on me. It is not five to one anymore. It is five to two. There will be no more taunting, teasing and racial names called. That is not acceptable here; do you understand?"
According to a report by a district-appointed hearing officer, the mother of one of the students complained, and Aister's behavior was found to be threatening.
The hearing officer recommended the governing board dismiss her, in part, because Aister would not take responsibility for her misconduct.
After what members of the board said was careful consideration, they voted 4-1 to terminate Aister - effective immediately.
[Click here to read the "Hearing Officer Findings of Fact, Conclusions and Recommendation in the Appeal of Pamela J. Aister" (PDF)]
"I am terribly disappointed," said Aister. "I can't believe they would believe lies. I hate to go out on lies."
The dissenting board member, Dr. C.T. Wright, said the punishment was too severe for a teacher who'd served the district in good standing for 25 years.
Those who came to the meeting in support of Aister said an injustice has been done.
"Even if mistakes were made, it sends the wrong message to the student body, to the other parents - that a group of moms can get together and get the school board on their side to bully a teacher," said Drew Coleman, who was there to represent his friend, a former student of Aister's, who couldn't make it to the meeting.
Other people backed the board's decision – acknowledging it was a difficult one.
"In this instance, these parents, everyone knowing what they know about her (Aister's) reputation and knowing there was actual proof and knowing there was more than one witness - felt that this was their opportunity to finally bring to light the way that she treats certain children," said Nicole Perkins, who has children who attend Four Peaks Elementary School but didn't have Aister as a teacher.
CBS 5 News tried to speak with members of the governing board. However, they quickly left the building after the meeting adjourned – without commenting.
Copyright 2014 CBS 5 (KPHO Broadcasting Corporation). All rights reserved.