UPDATE
Phoenix PD: Suspect wounded; 2 officers slightly hurt
Posted:
Updated: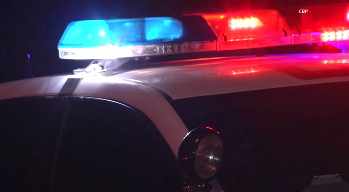 PHOENIX (CBS5) -
Two Phoenix police officers are recovering from minor injuries and one suspect was rushed to the hospital in a shooting Thursday evening, Sgt. Trent Crump said.
It all started when a woman showed up to her parents' house even though they have an order of protection against her. She tried to get in through a window but the neighbors called police thinking it was a break-in.
When police arrived, they found the woman inside the house and three of her friends outside.
Officers saw either bullets or a gun in their car and one of the woman's friends, a 22-year-old man, grabbed a gun and pointed it at one of the officers, Phoenix police Sgt. Trent Crump said. The officer tried to grab the weapon but fell backwards and the suspect ran.
Police said he tried breaking into several homes, and pulled out a knife and the gun, both of which were found at the scene, police said. Officers saw him trying to load a round when they shot him once in his groin area.
"The cop told him to stop resisting arrest or he would put a bullet in him and that's what he did," said Shane Moore, who saw the shooting.
"One shot was fired by one of our officers, the suspect went down," Phoenix police Sgt. Trent Crump said.
One officer was treated at the scene for minor injuries and another is recovering at a local hospital with injuries to his left shoulder and right hand.
Crump said the 22-year-old suspect was expected to survive. Crump said he is wanted on felony probation violation stemming from a child abuse conviction in California and he told police he is a gang member in California.
This was the 35th officer-involved shooting in the Valley this year.
Stay with cbs5az.com and CBS 5 News for updates on this developing story.
[Click here to sign up for breaking news alerts]
Copyright 2014 CBS 5 (KPHO Broadcasting Corporation). All rights reserved.
UPDATE

Phoenix PD: Suspect wounded; 2 officers slightly hurt

More>>

SLIDESHOW: Butler's home


More >