Company wants to bring first down laser line to NFL, college football stadiums
Posted:
Updated: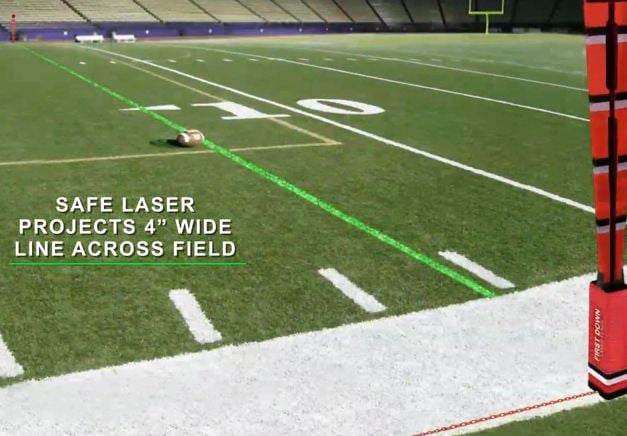 PHOENIX (CBS5) -
When you're watching football on TV, there isn't a play that happens where you don't know how far the offense needs to advance to get a first down.
One of the best advancements in live game coverage was the introduction of the computer generated yellow line. Imagine watching a game without it.

Unfortunately, you don't have to imagine it. Attend a game in person and you'll see that the yellow line isn't there. The only reference point for fans indicating the first down line are the markers held by officiating members on the sidelines.

Now, though, there's a push to bring laser technology to NFL and college football stadiums.
"There's 80,000 people at every game, every weekend and they don't see the yellow line and there's something missing there," says Richard Grobman of First Down Laser.

Grobman runs the company First Down Laser and for almost a decade they've worked to perfect the laser technology that would work to enhance a fans experience at the stadium.

"It's ready for game time," Grobman said. "The players could see the line. It can be used in replays. It's obviously more accurate than chain sets and you won't need first down measurements anymore."

The laser technology is placed in the first down markers on the sidelines and it fires a green beam across the field.

The company first tested it at Texas Stadium seven years ago. Since then, it's been demonstrated at a number of different venues and even talked about as something that could enhance track and field sports.

"A lot of the seats are going empty now because of the enjoyment fans are having at home," Grobman said.

The company has discussed its technology with the NFL going back nine years now. Grobman says there's also been interest from the Arena Football League, and the NCAA.

"We also envision it as something that can help with the concussion problem," Grobman said.

He believes the laser technology could reduce injuries because no longer would a player have to turn and look to the sidelines to spot the first down marker.
Instead, they would only have to aim for a big bright green line right in front of them.
Copyright 2014 CBS 5 (KPHO Broadcasting Corporation). All rights reserved.