UPDATE
Mesa mayor: Flooding looks like a 'mini-Katrina'
Posted:
Updated: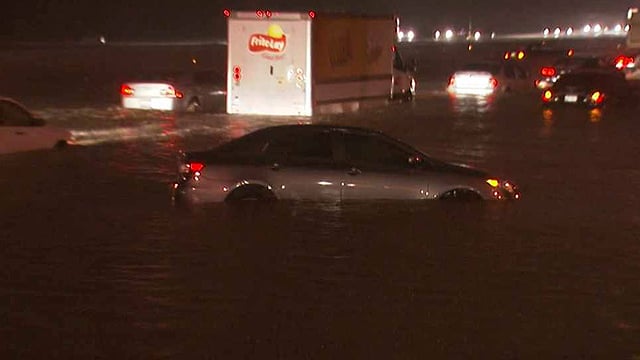 A stalled car floats in the water near 48th Avenue and Interstate 10 after a thunderstorm rolled through the Valley on Monday morning. (Source: CBS 5 News)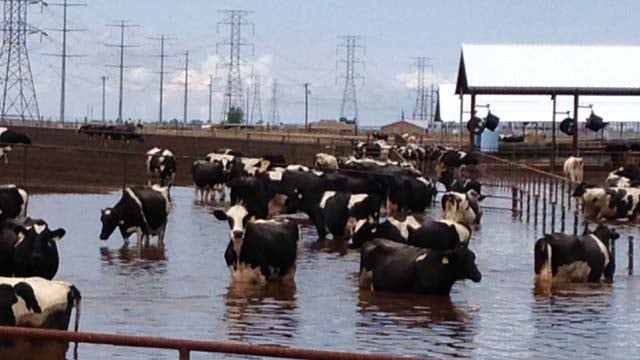 Flood waters affected cattle on this Arizona farm. (Source: Jason Barry, cbs5az.com)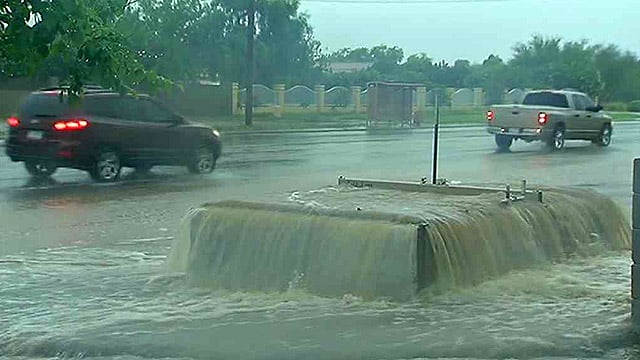 Water gushes after Monday's record rainfall. (Source: CBS 5 News)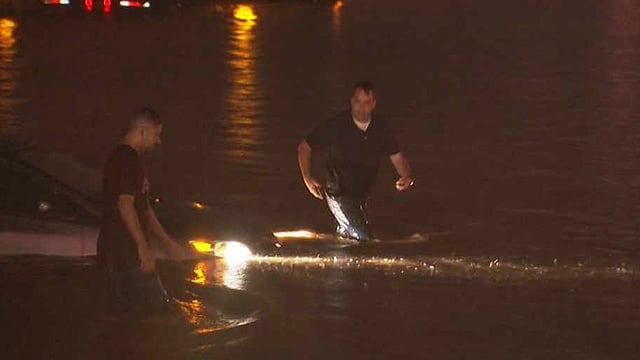 Jim Sampson walks from his car that was caught in floodwaters on Interstate 10 near 43rd Avenue. (Source: CBS 5 News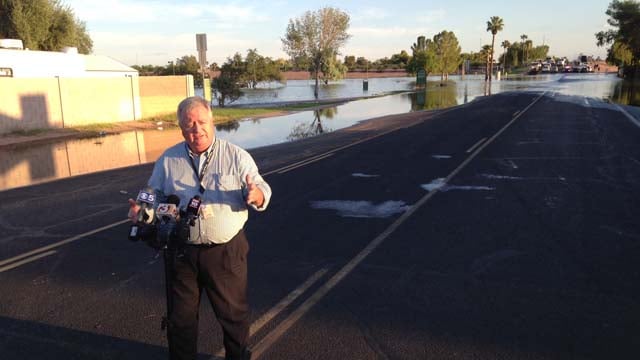 Mesa Mayor Alex Finter described the flooding in one section of town. (Source: Sean Gates, cbs5az.com)
PHOENIX (CBS5) -
As many as 125 homes in Mesa were threatened by floodwaters after several retention basins overflowed and the runoff spilled down streets and into people's homes.
Mayor Alex Finter called the scene a "mini-Katrina" in the wake of historic flooding that saw the Valley set a record for the most rainfall ever in a single day.
Finter said voluntary evacuations were underway in neighborhoods near Val Vista Drive and Hampton Avenue and 39th Street and the U.S. 60.
Standing water in a nearby retention basin north of the Superstition Freeway near Harris Drive and along roads and other low spots forced the cancellation of classes at Keller Elementary School for a second straight day Tuesday, the Mesa Police Department said.
All school in the Phoenix Elementary School District No. 1 that were closed Monday were open Tuesday for classes.
For those displaced, Mesa has partnered with the Red Cross to open a shelter at the Broadway Recreation Center at 59 E. Broadway Rd. The city is providing updated emergency information on its website.
City officials said the amount of water was just too much for the retention basins and channels along the U.S. 60 to handle. Normally, any overflow would end up in an Arizona Department of Transportation drainage canal, but it, too, was full to capacity.
The potential for flooding did not pass with the record-breaking rains of Monday.
A flash flood warning was issued for Pinal County on Tuesday and a flash flood watch was in effect for Apache, Coconino, La Paz, Maricopa, Mohave, Navajo and Yavapai counties. A flash flood advisory also was in effect for La Paz and Maricopa counties.
Crews in Mesa were putting sandbags around the endangered homes and trying to pump out excess water.
Authorities were going door-to-door in the affected neighborhoods to see if any homeowners need help.
Finter said it could take days or weeks to remedy the situation.
Salt River Project crews began disconnecting power to submerged transformers about 10 p.m. Monday and said it could take 12 to 14 hours to restore power. The power will be off until water recedes enough to evaluate the transformers.
The following area is affected by this outage: Stapley Drive to Harris Drive and Southern Avenue to U.S. 60.
For the 300 customers still without power Tuesday, SRP is distributing bagged ice at Keller Elementary School located at 1445 E. Hilton Ave.
SRP expects to have the power fully restored at 5 p.m. Tuesday.
States of emergency declared
Phoenix Mayor Greg Stanton and Gov. Jan Brewer declared states of emergency after record-breaking rainfall played havoc with early morning commuters, closed schools, slowed down or stopped mail delivery and caused extensive power outages on the wettest day in the city's history.
The action activated the city's Emergency Operations Center, which allows the city departments to all come together and operate and respond from one location.
Residents can call the center at 602-534-2222 if they have 6 inches of flooding or more to request a damage assessment.
"We are seeing a historic amount of rain and significant flooding, and I'm proud of how quickly the city responded to keep our residents safe and up-to-date on what's happening," Stanton said. "Our emergency management team will work around the clock to monitor the situation and deploy the necessary resources to areas of our community hit the hardest."
Brewer's declaration was to provide financial support for eligible response and recovery costs and that states of emergency in Maricopa and La Paz counties requested state financial assistance.
"The storms resulted in significant impacts to transportation infrastructure throughout the Phoenix metropolitan area in Maricopa County, including the closure of State Route 51, Interstate 10 and 17 and U.S. Route 60," Brewer said in a statement released Monday afternoon.
"The heavy rains also threatened lives, caused residential damages, forced evacuations in La Paz County and required emergency response search and rescue missions, including the American Red Cross opening shelters in Maricopa and La Paz counties. The threat of flooding remains high due to heavily saturated soils and the anticipation of additional waves of precipitation," Brewer said.
Heavy downpours early Monday morning brought freeway traffic to a crawl, closed many surface street intersections and placed the state on a flash flood watch for the rest of the day.
The fire department received 1,300 calls for help between 3 a.m. and 9 a.m. Police got nearly 3,500 calls, and there were at least 14 water rescues.
Salt River Project reported 1,705 customers were still without power late Monday afternoon. Arizona Public Service said it was still working to restore power to 150 of its customers.
Residents in south Phoenix were hit hard again, following last month's damaging floods. One man contacted by CBS 5 News said he just finished repairing the dry wall and repainting his dad's house after the last devastating monsoon three weeks ago.
In the West Valley, the American Red Cross has opened an emergency shelter at Copper Canyon High School at 9126 W. Camelback in Glendale for those displaced by flooding. There was also a shelter at Betty Fairfax High School at 8225 S. 59th Ave. in Laveen.
A shelter team was standing by in La Paz County in case a shelter is needed in Wenden or Salome. Anyone who needs help from Red Cross due to the flooding should call 1-800-842-7349.
Valley rainfall totals
Phoenix Sky Harbor International Airport at 9:30 a.m. reported 3.29 inches of rain since midnight, breaking the record for the date of 2.91 inches, Ken Waters and Mark O'Malley of the National Weather Service said.
It marked the wettest day on record for Phoenix since record keeping began in 1895, Waters said.
The rain that fell at Sky Harbor represents 41 percent of the yearly total rainfall in just six hours, CBS 5 Meteorologist Paul Horton said.
Here are some other rainfall amounts as recorded by the Maricopa County Flood Control District:
5.63 inches - Chandler
5.28 inches - Tempe
4.37 inches - Glendale
4.17 inches - Paradise Valley
4.09 inches - Arcadia
4.02 inches - Durango complex
3.29 inches - Phoenix Sky Harbor International Airport
3.23 inches - Scottsdale
3.07 inches - Peoria
Partial roof collapse at Tempe Fry's
A roof partially collapsed at the Fry's Marketplace at Baseline and McClintock roads in Tempe, and the city of Mesa established an emergency center for residents affected by the rain and flooding. No injuries were reported.
While the cause hadn't been determined, Fry's officials said they couldn't rule out the unprecedented rain.
The store was closed, but customers who were expecting to pick up prescription drugs were asked to call the next Fry's nearest them, and Fry's would facilitate getting the necessary drugs to them.
Finter, a lifelong resident of his city, said he had never seen rain and accumulations like that on Monday. He said the city's retention basins had topped out, and some water moved south to U.S. Highway 60.
He said there was flooding reported in Mesa homes and businesses, and that city staff had been deployed to meet the needs of residents, including providing sandbags.
"Whatever the citizens need for safety, we'll make it happen," Finter said.
The Boys and Girls Clubs of Metro Phoenix, which lost a program support building to a monsoon in August, suffered another blow Monday when its support center's temporary offices were flooded, spokesman David Romake said.
The first floor of the center and the one-story conference center that was used as a temporary center were under several inches of waters. Computer servers, computers and files were damaged, he said.
"We're opening our Clubhouses at noon today for members whose schools are closed, and we won't let this affect their programs," said Amy Gibbons, president and executive director of the Boys & Girls Clubs of Metro Phoenix. "But we're going to need the community's help now to rebuild."
The August storm destroyed the roof of the support center an flooded the building. Half of it was not salvageable, Romake said.
To contribute to the rebuilding effort, visit https://give.bgcmp.org/donate-now. Cox Communications will match gifts up to $10,000, Romake said.
[Road closures and restrictions from ADOT]
Interstate 17 was closed at Indian School Road, and U.S. Highway 60 (Grand Avenue) was closed between 51st and 59th avenues because of heavy flooding but was reopened before 8 a.m., the Arizona Department of Transportation said.
The I-17 underpasses at Greenway and Camelback were flooded and closed to traffic.
Doug Nintzel of the Arizona Department of Transportation said the record rain made it difficult for ADOT's pumping stations to keep at those two underpasses.
"We usually talk about 2 inches of rain in an hour to get localized flooding on the freeways," Nintzel said. "When you get 4 inches, that will be more than the pump stations can handle, and then it's a matter of playing catchup."
Nintzel said upgrades had already been planned for the pumping stations at Greenway, Camelback and Bell roads.
Vehicles on I-10 submerged
Traffic was brought to a crawl on Interstate 10 in the Buckeye area, and water was up to the hoods of several vehicles and at least 27 were stalled in the standing water at 43rd Avenue and I-10, Bart Graves of the Arizona Department of Public Safety said.
ADOT blames a censor that failed to activate a switch to turn on a pump. Officials also said that the combination of very heavy rain and debris in the storm grates played roles in the highway havoc.
Both lanes of the I-10 freeway were shut down at around 4 a.m. Side streets saw bumper-to-bumper traffic as morning commuters took slow detours to work. I-10 in both directions re-opened just before 5:30 p.m., according to the Arizona Department of Transportation.
"Today's record rainfall was a tremendous challenge for ADOT crews working to keep the roads not only open but safe for Arizona drivers," state engineer Jennifer Toth said. "Our crews have worked hard throughout the day to reopen roads in time for the afternoon drive home."
The severity of the storm and the toll it was inflicting on I-10 during the early morning hours took Arizona Department of Public Safety officers by surprise.
"This is pitch-black darkness," said DPS spokesman Bart Graves. "When this system moved in, this system moved in with such intensity that the freeway was flooded when we arrived on scene."
A Valley Metro spokeswoman said bus routes were delayed by the weather as with any other vehicles, but the light rail system was operating normally.
Jim Sampson said he was waved through by law enforcement officers when a wave from a passing vehicle passed over his sedan, causing it to stall.
A master scuba diver, Sampson said he waited for the water inside his vehicle to equalize the water outside before he could open his car door to get out.
An expectant mother in a Hummer said she feared for her life after her vehicle stalled. She had to be rescued from her car by strangers, including a 13-year-old boy, CBS 5 News' Christina Estes reported.
Indian Bend Wash crests
Scottsdale police reported that Indian Bend Wash had crested at several bridges and water was flooding Hayden Road at some spots.
Police Sgt. Mark Clark warned residents to exercise caution around the wash because of the rapidly flowing water. He said the city was inspecting the city's bridges and infrastructure to ensure they were "doing their job."
Clark said the city's emergency operations center had been set up, and all services were communicating throughout the morning.
Motorists were asked to delay their commutes because of the dangerous road conditions, Graves said.
DPS officers were diverting traffic from many Valley freeways to surface streets, Graves said.
Maryvale Municipal Golf Course measured nearly 3.5 inches of rain, and South Phoenix seemed to receive the brunt of the storm with several reporting stations measuring more than 3 inches.
Jeff Lane of Salt River Project said the utility's power outage map looked like "a Christmas Tree" Monday morning with as many as 9,500 people without power. He said power lines and poles were down in several locations.
The Cardinals game at the University of Phoenix Stadium Monday was played as scheduled.
A weather pattern channeled deep moisture associated with former Hurricane Norbert and combined with monsoonal activity to bring the heavy rains, lightning and thunder into Arizona, CBS 5 meteorologists said.
Tropical moisture feeding into the state from the south strengthened the pattern and led to a series of thunderstorms in some parts of the CBS 5 viewing area before 6 a.m. Monday.
With monsoon weather remaining active, be sure to check in with on-air, online and on your phone with the CBS 5 app for the latest weather updates and interactive radar.
Residents prepare for flooding
Some Phoenix residents are wasting no time preparing for possible flooding.
A pair of south Phoenix families know what that's like all too well. Every time it rains, even just a little, their homes flood. Jenny Nuñez said she's put up with it for 10 years.
"We like it here. We've been here a long time," Nuñez said. "It's just too much."
In just the last month, Nuñez and her neighbors off 19th Avenue and Broadway have mopped their homes clean of flood waters twice. Every time it starts to rain, she fears the flash flood.
"[The water comes in] I'd say in the matter of four to five minutes," she said.
A monsoon storm last year blasted her neighbor's home with heavy rains and 7 inches of flood water inside. Audrianna Rogers said she never knows what to expect with a rainy forecast but she has to be prepared for the worst. Rogers has cinder blocks stacked outside her front door.
"We're going to put some more up and put sand around the door so it won't come in," Rogers said. "It's hard. You just have to be strong."
With sandbags on standby and a dry mop ready for use, Rogers and Nuñez are prepped for another round of rain and whatever flooding another storm will dish out.
Many other Arizona residents are still flood weary from soaking rains that inundated their neighborhoods last month.
A massive wall of dust coated everything in its path as it blasted through the Valley on Saturday evening in what turned out to be a prelude to more big weather changes in store as the work week began.
The Phoenix area was under a dust storm warning until 8 p.m. Saturday as the monsoon kicked in again.
Dust flew as winds were gusting between 25 to 40 mph.
Brewer asks for federal aid
Arizona Gov. Jan Brewer has asked for federal help in assisting those whose homes and businesses were damaged in last month's flooding in Maricopa County.
The governor sent a disaster declaration request Wednesday to the Small Business Administration.
[Click here to read her letter (PDF)]

Maricopa County received rainfall on seven of eight consecutive days between Aug. 12 and Aug. 19. The storms produced flash flooding that impacted more than 350 homes.
Laveen received 3.97 inches of rain, while New River received 6.85 inches.
Officials found there was major damage to at least 41 homes and businesses and minor damage to an additional 61 homes and businesses.
Copyright 2014 CBS 5 (KPHO Broadcasting Corporation). All rights reserved.
UPDATE

Mesa mayor: Flooding looks like a 'mini-Katrina'

More>>

Weather Alerts Interactive Map Arizona Web Cams Receive Weather Alerts via Email Follow Arizona Weather on Twitter Like Arizona Weather on Facebook Send Weather Photos & Videos to CBS 5 SLIDESHOW:

More >

Weather Alerts Interactive Map Arizona Web Cams Receive Weather Alerts via Email Follow Arizona Weather on Twitter Like Arizona Weather on Facebook Send Weather Photos & Videos to CBS 5

More >

Friday, August 1 2014 12:23 PM EDT

2014-08-01 16:23:02 GMT

2012 Monsoon Season 2011 Monsoon Season Monsoon Resources Weather Slideshows Monsoon Photo Contest

More >

Here are some dust storm driving tips:

More >