Frantic 911 calls detail moments after gun instructor shot
Posted:
Updated: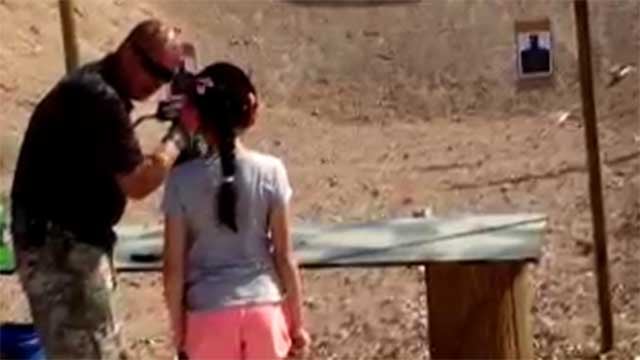 Video filmed by the mother of a 9-year-old involved in a gun range shooting was released in the Aug. 25, 2014, shooting in White Hills, AZ. (Source: Mohave Co. Sheriff's Office)
DOLAN SPRINGS, AZ (FOX5) -
Officials released 911 calls Tuesday that showed the frantic moments following the accidental shooting of a gun instructor by a girl handling an Uzi.
The shooting happened about 10 a.m. Aug. 25 at an outdoor shooting range at the Last Stop in White Hills, AZ, near the Nevada-Arizona border.
According to investigators, 39-year-old Charles Vacca was standing next to the girl, who was holding a 9 mm automatic Uzi. The girl lost control of the gun when she fired, and it turned toward Vacca who was shot in the head.
At least two people made calls to 911 dispatchers after the shooting, requesting that an ambulance immediately be sent.
"How did that person get shot?" the dispatcher asked one of the callers.
"On a gun range," the caller replied.
Seconds later, other people can be heard in the background trying to save Vacca's life, and encouraging him to stay conscious.
"Pick him up!" a person in the background of one of the calls said. "Pick him up! Put him on the [expletive] deck right now!"
In another call, the dispatcher asked the caller if he can apply pressure to Vacca's wound.
"I can't!" the caller said. "I have nothing to apply pressure with!"
Subsequent calls showed people at the scene who originally called 911 requesting a helicopter be sent to the scene for faster response. Another call showed that people at the scene were getting frustrated with the response time of first-responders.
"I just called from the Last Stop," the caller told the dispatcher. "Where the [expletive] is the helicopter?"
In the background of this call, people can be heard encouraging Vacca to breathe.
"I don't think he's going to make it," a person in the background of the call is heard saying.
Also on Tuesday, a police report revealed the girl's statement to police after the shooting, saying she felt the gun was too much for her and had hurt her shoulder.
Authorities have said no charges will be filed against the girl or her family.
Copyright 2014 KVVU (KVVU Broadcasting Corporation). All rights reserved.