Write-in candidate looks to shake up AZ governor's race
Posted:
Updated: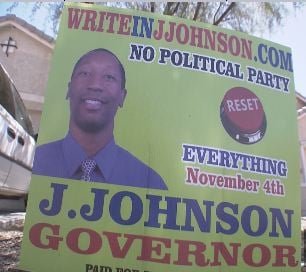 CASA GRANDE, AZ (CBS5) -
He's the 'regular guy' who wants to be the next governor of Arizona.
J. Johnson, 48, wants to shake-up this year's election so he's decided to take on frontrunners Fred DuVall, D, and Doug Ducey, R, in the race for governor.
The father of four from Casa Grande, who has never run for political office, has decided there needs to be a 'regular guy' running things at the state capitol.
"When you have a politician running, their first and foremost agenda is for the political party," said Johnson. "As a regular guy, we're thinking about our neighbors, ourselves, and the things that touch us."
The food account manager has just kicked-off a campaign to get Arizona voters to write down his name on this November's ballot.
He's got a website, and hundreds of signs posted across the Valley and around the state.
Johnson told CBS5 that he decided to run a few months ago when his wife Dorothy told him to stop getting so upset about how poorly our government was being run.
"I just said if you are going to keep complaining, why don't you just put your money where your mouth is and do something about it," said Dorothy Johnson.
The write-in candidate said he's not connected with any political party, and he's funding his entire campaign himself.
If elected, Johnson said that his priorities would focus on K-12 education, creating jobs and cutting fraud and waste in government.
"First and foremost, I'm a conservative where it makes sense, and I'm a little bit liberal where it makes sense," said Johnson. "But if you want to put a moniker on me, I believe in the Constitution."
So what are the chances Johnson could actually win?
It's a long shot, but the 'regular guy' said it's about time voters had another option.
"People that say a write-in can't win," said Johnson. "Guess what? 150 years ago - everybody was a write in. I feel as though our government is slipping away from us. It's time to come back."
For more information on the campaign visit www.writeinjjohnson.com
Copyright 2014 CBS 5 (KPHO Broadcasting Corporation). All rights reserved.