'Miserable' mosquitos force district to fog schools
Posted:
Updated: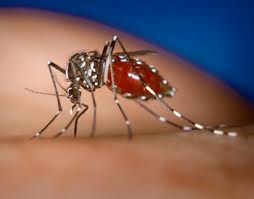 PARADISE VALLEY, AZ (CBS5) -
The swarm of mosquitos attacking Paradise Valley students appears to be a threat being taken seriously.

"We're sending our pest control company out to fog the affected schools," said Paradise Valley Unified School District Commmunications Specialist Carol Herz.
The grounds of Quail Run, Boulder Creek and Grayhawk Elementary Schools will be treated over the weekend. Crews will do the ball fields, playgrounds; basically the whole exterior of the school. Officials say if it doesn't work they will spray again.

It's a significant response after multiple reports of multiple bites at the three elementary schools.

"The nurses have reported that they have been quite busy treating students with mosquito bites," Herz explained.

In addition to fogging, parents received a letter Friday from teachers notifying them of the issue. In part, it said:

"Today, at school there has been an abundance of mosquitos, so mosquito spray in the mornings may be helpful to avoid bites."
"I've never seen it before but I mean I think they are just trying to look out for the kids," said Quail Run parent Shawn Porter about the school's plan to fog the campuses.
Parents who spoke with CBS 5 News Friday while waiting for school dismissal reported their children have come with multiple bug. "They both complain that there's mosquitos in the grass when they're playing and have come with bug bites," said Jeanette Martin who has two children that attend Quail Run.

The problem with the mosquito is worrisome for Martin. "It is concerning since my son is allergic to any kind of bug bite," she said.

Herz says the schools did remove all standing water after the last monsoon storm.

"We believe the problem is coming from retention ponds or standing water in the surrounding neighborhoods," Herz said. Shawn Porter added that, "over there, there's a little pump house and the lake was probably a good 40 feet across."

The treatment is expected to ward off the bothersome bugs, making campus pest-free for students when they return Tuesday.

"We have talked to the pest control company and been assured by them that the chemicals that they will be using are not toxic or harmful in any way to the students," Herz said.
It's PVUSD officials understanding that, when it comes to the Paradise Valley area having a problem with the bugs, Maricopa County's "mosquito abatement division" will only be trapping and testing mosquitoes for West Nile virus. The county won't be fogging at this time.
Copyright 2014 CBS 5 (KPHO Broadcasting Corporation) All rights reserved.