BETTER ARIZONA
Phoenix cop goes beyond call of duty to help senior citizen
Posted:
Updated: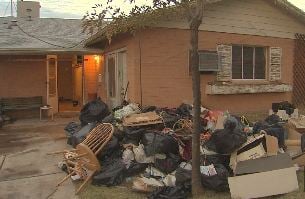 Trash pulled from Tims' house.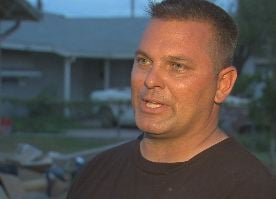 Phoenix police officer Glenn Branham.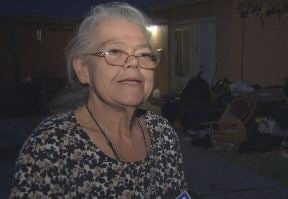 Linda Tims
MARYVALE, AZ (CBS5) -
Linda Tims got a phone call in mid-August that her yard was flooded.
Turns out, someone stole copper piping outside of her Maryvale house.
The thieves also broke into the home and swiped some of her belongings.
She's not exactly sure when this happened because she hasn't lived there since February.
Tims has been staying with one of her daughters because her house is uninhabitable.
The Phoenix police officer who responded to this residential burglary call said he encountered one of the worst hoarding situations he has ever seen.
They couldn't even dust for fingerprints because the place was such a mess.
"I don't have any problem getting rid of this stuff," said Tims. "Not at all. I'm tired of living (like this). My house never used to look like this."
So, how did this happen to the home Tims has owned for more than 35 years?
She said after both her parents and her husband's parents died, they acquired their belongings.
"We never went through it," Tims explained. "It just became packed in the house."
Since her husband's death in 2011, Tims has been dealing with her own health issues and simply became overwhelmed.
Enter officer Glenn Branham, an eight-year veteran of the Phoenix Police Department.
"We've been working on the trash," said Branham as he pointed to dozens of filled trash bags on Tims' lawn. "That's not even a quarter of the house right here."
He's the officer who came to Tims' rescue when her house was burglarized.
"He's an angel," she said. "I can't believe what he's doing. I think it's fantastic."
During his off-duty hours, Branham has undertaken the back-breaking chore of clearing Tims' home of years of accumulated junk and pooling resources to renovate her house.
"It's a dream come true," said Tims. "I've even told my four children; I said, 'In my lifetime, I probably won't ever see it cleaned up.'"
Not only is Branham helping to clean out her house, he has already spent hundreds of dollars of his own money to replace the stolen copper pipes.
He's also tapping into his connections, as a former construction worker, so Tims' home will be like new inside.
"The outside structure is the only thing salvageable at this point," he explained. "The whole interior has to be renovated."
Branham estimates the job will take a few months and cost between $60,000 and $70,000.
He's counting on others to join him in donating time, money and material.
Branham said Able Architectural Woodworks has agreed to redo the kitchen cabinets and counters.
Lloyd's Interior Finishes will replace all of the drywall.
D&E Air Conditioning & Heating has repaired Tims' swamp cooler.
The non-profit, Angels on Patrol will provide Tims with a new bed, couch and miscellaneous building materials.
Branham said he's also reached out to other business to help with the renovation costs.
Beaver Stripes donated a $100 gift card, Walmart donated a $150 gift card, and an Ace Hardware chipped in with a $50 gift card.
In October, the exterior of Tims' home will repainted, courtesy of a program for low-income senior citizens called Rock and Roll Paint-a-Thon.
So, why is Branham going beyond the call of duty and doing so much to help a stranger?
"I have a mother too," he explained. "And, if she was in that predicament, I hope somebody would help her. She seems like she's in need. She's on a limited income. And, at this point, it seems she fell between the cracks. And, there's no one else to help her right now."
Branham realizes there are many others, in the community he patrols, who might have also fallen through the cracks.
That's why he's thinking about starting his own nonprofit to help hoarders.
"Hopefully, I'll have more people help us out on other projects in the future because it is demanding and it's draining personally and financially," Branham said.
On Aug. 23, Branham and at least 20 of his friends and family gathered for a "blitz clean" to prepare Tims' home for renovation.
Phoenix's Neighborhood Services Division dropped off a large dumpster for trash and other junk while a local storage facility has donated space for two months to house all of Tims' salvageable belongings.
The Phoenix Police Department's Maryvale precinct provided water for volunteers.
"I can't believe it," Tims said. "I'm overwhelmed. Like, somebody pinch me, so I can wake up!"
Tims, who will celebrate her 65 birthday on Aug. 24, said she is touched by Branham's kindness and everyone else who's helping her out.
"It's beautiful," she said. "It's a godsend. It's an answer to a prayer."
Once Tims moves back into her home, one of the first things she plans to do is turn on her oven and resume her love of baking.
"The state fair is coming up," she pointed out. "I've been at my daughter's house, using her stove. I've won ribbons."
Tims said she plans to enter some contests if she doesn't give away all of her goodies first.
"I've got to come up with something to do for these volunteers!" she said.
Tims' daughter has set up a Go Fund Me account to help with the renovation expenses.
An account has also been set up at Chase Bank - just reference Linda Tims Renovation, account number: 3313958992.
If you'd like to volunteer your time or donate materials to this renovation project, send an email to rebecca.thomas@cbs5az.com and your information will be given to Branham and Tims.
Copyright 2014 CBS 5 (KPHO Broadcasting Corporation). All rights reserved.