Phoenix Mercury to host "Be the Match
Posted:
Updated: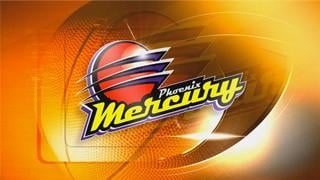 © cbs 5
PHOENIX (CBS5) -
In honor of the Phoenix Mercury's "signing" today of "Coach Mia," an 11-year girl who suffers from a rare bone marrow failure syndrome, the team has teamed up with Be the Match to host a bone marrow registry drive from 11a.m. - 1p.m. and 4 - 7 p.m. tomorrow. The drive will be held in the Casino Arizona Pavilion prior to the Mercury's matchup with the Los Angeles Sparks in Game 1 of the First Round of the 2014 WNBA Playoffs. Tip-off is set for 7 p.m.
"Coach Mia" battles Diamond Blackfan Anemia, a rare bone marrow failure syndrome, causing her body not to produce red blood cells. While Mia patiently awaits a bone marrow transplant, she must undergo a monthly blood transfusion to survive. At the young age of 11, she has already endured more than 100 blood transfusions and has been on the bone marrow donor list since she was 2 years old.
"Even though I'm small in size, I have big goals," said Coach Mia. "I am very excited to be a part of the Phoenix Mercury family, because they also dream big, and know how important it is to help people out when they are in need."
Today, the most common form of marrow donation is a process similar to platelet or plasma donation. Joining the donor registry takes about 5 minutes and consists of a simple cheek swab and a consent form. If you are identified as a match for a patient, you will be contacted for further testing at that time.
"Most people are surprised to know how easy it is to join the registry," said Aubrie Vargas, Account Executive of Community Engagement for Be The Match. "Five minutes of paperwork and a quick cheek swab can save someone's life."
Tickets for Friday's (August 22) Game 1 of the Mercury's opening round series against the Sparks are on sale now starting at just $17 and can be purchased at PhoenixMercury.com, the US Airways Center ticket office or by phone at 602-252-WNBA.
Copyright 2014 CBS 5 (KPHO Broadcasting Corporation). All rights reserved.