ONLY ON CBS 5
Phoenix woman, son at mercy of gunman during hold-up
Posted:
Updated: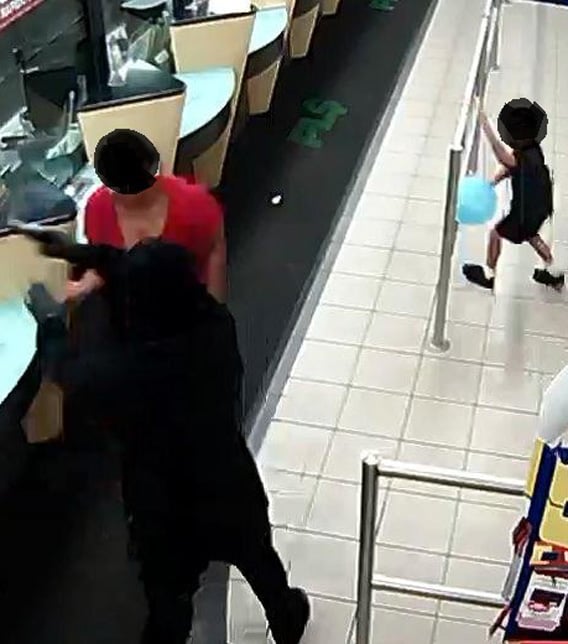 (Source: Phoenix Police Department)
PHOENIX (CBS5) -
A Phoenix woman was cashing a check with her little boy by her side when a masked man shoved a pistol in her face.
It happened more than a month ago, but it's an experience she can't seem to shake.
CBS 5 News will call the woman "Anne" to protect her identity was at the mercy of a gunman.
"I see the gun in my head every day. I dream about it," Anne said.
Anne said she was running an errand for her sister on July 10. It was just after 8 p.m. when she and her son got to the counter of PLS check cashing near Central and Southern in Phoenix.
"I happened to turn to the left and the gun is pointed in my face and then he says 'give me the money now,'" Anne said.
Just a few feet away was Anne's little boy. He stood clenching onto a balloon when the masked man pointed the gun at the ceiling and fired.
"I'm like just give him whatever the hell they're asking for because I'm not going to lose my kids, they're more important than my money and this phone," Anne said.
Anne put everything she had on the counter. She dropped to the floor and yelled to her 5-year-old to run to the corner. The man fired a second shot before bolting out the door.
"He didn't just hurt me, he hurt my son. He doesn't like going to the store. He freezes when he goes places. He worries about the guy coming to our house," Anne said.
If you have a tip that can help police, call Silent Witness at 480-WITNESS.
Copyright 2014 CBS 5 (KPHO Broadcasting Corporation). All rights reserved.