Beat LA! Mercury will face Los Angeles to open 2014 WNBA Playoffs
Posted:
Updated: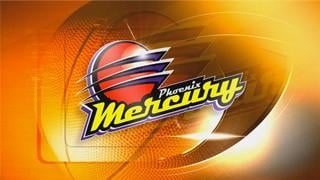 © cbs 5
PHOENIX (CBS5) -
BEAT LA! MERCURY WILL FACE LOS ANGELES TO OPEN 2014 WNBA PLAYOFFS Tickets for Friday's Game 1 at US Airways Center are on sale now; Hall of Fame Announcer Al McCoy to provide play-by-play for the Mercury's playoff opener
PHOENIX – Get ready, X-Factor, it is time to BEAT LA! The two-time WNBA Champion Phoenix Mercury will face the Los Angeles Sparks in the opening round of the 2014 WNBA Playoffs, which includes Game 1 on Friday, Aug. 22 at 7 p.m. at US Airways Center.
Basketball fans watching the game on NBA TV or WNBA Live Access will notice a familiar voice, as Hall of Fame Phoenix Suns broadcaster Al McCoy will provide play-by-play alongside analyst and Hall of Famer Ann Meyers Drysdale.
In addition to NBA TV's live broadcast of Game 1, FOX Sports Arizona will air the game in its entirety following its Diamondbacks postgame show at approximately 10 p.m. Game 2 of the Mercury's opening round series, which will be played in Los Angeles at STAPLES Center on Sunday, Aug. 24, will air on ESPN2 at 6 p.m. Phoenix time. If necessary, Game 3 will be played on Tuesday, Aug. 26, at US Airways Center at 7 p.m. and will be broadcast live on FOX Sports Arizona Plus, and on NBA TV.
Western Conference Semifinals (best-of-three) Phoenix Mercury vs. Los Angeles Sparks
Game 1 Friday, Aug. 22 Los Angeles at Phoenix 7 p.m. (Phoenix time) NBA TV/FSAZ*
Game 2 Sunday, Aug. 24 Phoenix at Los Angeles 6 p.m. (Phoenix time) ESPN2
Game 3** Tuesday, Aug. 26 Los Angeles at Phoenix 7 p.m. (Phoenix time) FSAZ-Plus/NBA TV
*Live on NBA TV; Tape delayed and aired following Diamondbacks postgame show on FSAZ **If Necessary
Currently a WNBA-best 28-5 (.848), the Mercury has secured the WNBA's best regular season record and the No. 1 overall seed throughout the playoffs. The Western Conference Finals is a best-of-three series and the WNBA Finals is best-of-five.
Tickets for Game 1 of the Mercury's opening round series against the Sparks are on sale now starting at just $17 and can be purchased at PhoenixMercury.com<http://www.phoenixmercury.com/>, the US Airways Center ticket office or by phone at 602-252-WNBA.
-PhoenixMercury.com<http://www.wnba.com/Mercury>-