Mercury, Dupree agree to contract extension
Posted:
Updated: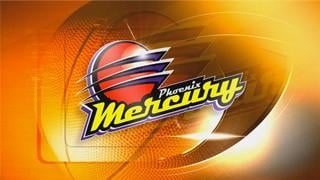 © cbs 5
The two-time WNBA Champion Phoenix Mercury today signed All-Star forward Candice Dupree to a multi-year contract extension, the team announced.
"We greatly value Candice Dupree's importance to our franchise and her role in our historic regular season," said Mercury General Manager Jim Pitman. "She is an All-Star, who is as consistent a player as we have in our league. We are thrilled that she is a part of our team, now and into the future."
The 6-foot-2 forward is a four-time WNBA All-Star (2014, 2009, 2007, 2006), who has started all 33 games this season for the first-place Mercury. One of the league's most consistent mid-range threats, Dupree is averaging 14.5 points (3rd-team) and 7.6 rebounds (2nd-team) while shooting 53.7 percent from the field in 2014.
Now in the ninth year of her WNBA career and her fifth season with the Mercury, this season Dupree became just the 11th player in WNBA history to score 4,000 points and record 2,000 rebounds. She currently ranks in the top-20 in each category on the WNBA all-time lists.
Despite playing just five years in a Phoenix uniform, Dupree is among the Mercury franchise leaders in career double-doubles (32, 1st all-time), career double-digit rebound games (34, 1st all-time) and rebounds (1,054, 3rd all-time). She holds the single-season Mercury record for field goal percentage after shooting 66.4 percent from the field in 2010.
A four-year performer at Temple University and a three-time Euroleague All-Star, Dupree was a member of the gold-medal winning US Women's National Team at the 2010 FIBA World Championships and is a finalist to make the team's 2016 Olympics roster.
Currently a WNBA-best 28-5 (.867), the Mercury has secured the WNBA's best regular season record and the No. 1 overall seed throughout the playoffs. Phoenix does not yet have an opponent for its best-of-three first round series (Western Conference Semifinals), which begins this Friday, Aug. 22 at 7 p.m. at US Airways Center. Tickets for Game 1 of the Mercury's opening round series are on sale now starting at just $17 and can be purchased at PhoenixMercury.com, the US Airways Center ticket office or by phone at 602-252-WNBA.
Copyright 2014 CBS 5 (KPHO Broadcasting Corporation). All rights reserved. The Associated Press contributed to this report.