Dozens in Phoenix protest Missouri shooting
Posted:
Updated: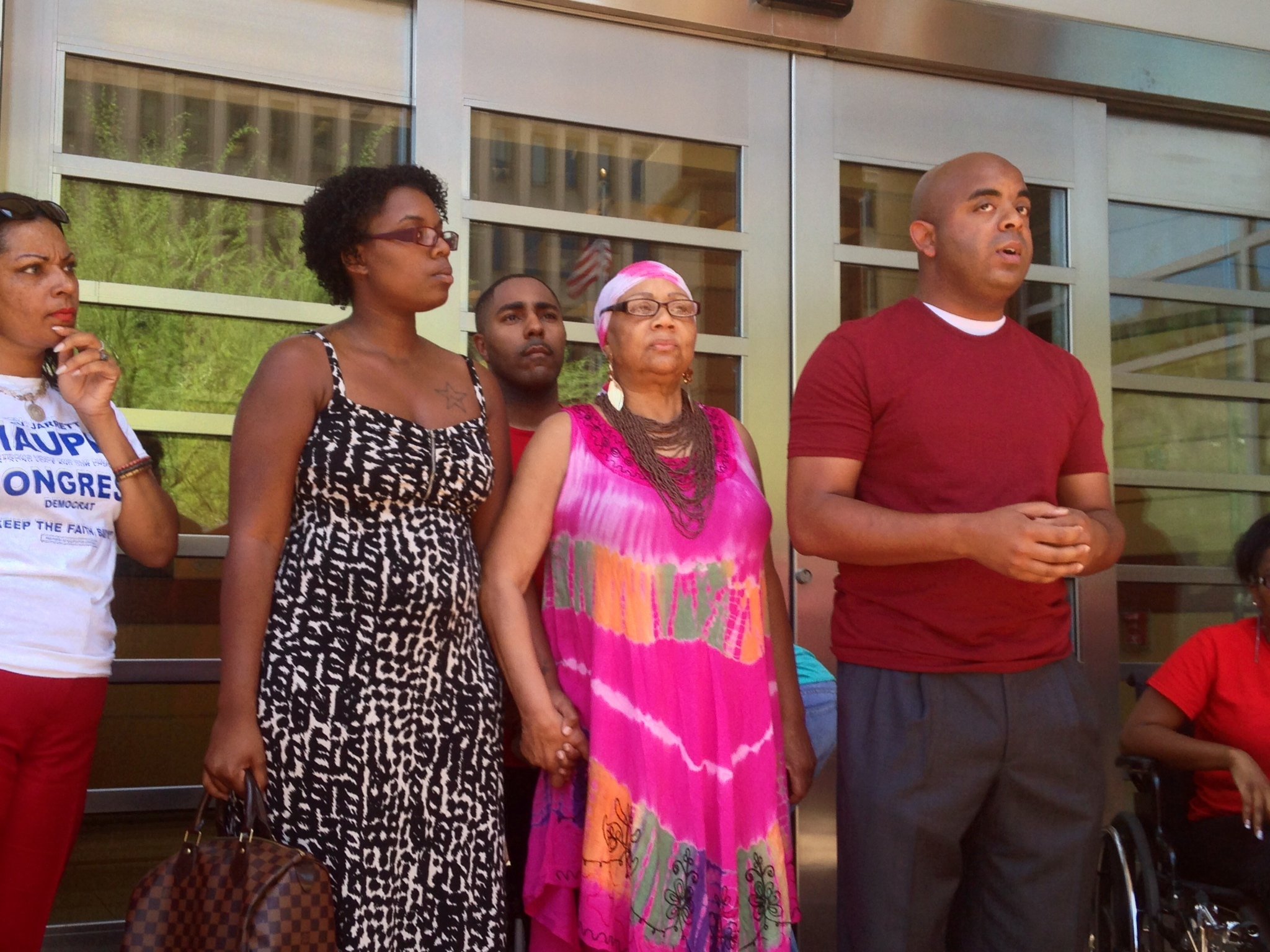 Demonstrators outside Phoenix City Hall. (Source: Christina Batson, cbs5az.com)
PHOENIX (CBS5/AP) -
Protesters gathered in sweltering heat in Phoenix to decry the shooting death of an unarmed teen in Ferguson, MO.
About 75 demonstrators stood in a shaded spot outside Phoenix City Hall on Saturday starting at 11 a.m.
A majority of the protesters wore red T-shirts to symbolize the color of blood.
The rally appeared relatively peaceful as demonstrators took turns speaking about police brutality and racial profiling.
"What we need is for County Attorney Bill Montgomery or Attorney General Tom Horne to step up and investigate these killings and unchecked violence against citizens, many of whom are people of color," the Rev. Jarrett Maupin said. "If they refuse to do it, then our recourse will be to invite the Department of Justice and the Obama Administration to step in and do it for them."
Five plainclothes officers from the Phoenix police's community response squad were present at the rally.
Activist Lauryn Mangum said she and Maupin will continue to "shake the city of Phoenix, until our civil rights are protected and our loved ones are no longer being victimized by over-militarized local police forces."
Protests have been taking place in several cities across the country since the Aug. 9 shooting of 18-year-old Michael Brown, who was walking in a street.
Brown, who was black, was shot by a white police officer.
Missouri Gov. Jay Nixon declared a state of emergency Saturday and imposed a curfew in Ferguson.
Nixon said that though many protesters were making themselves heard peacefully, the state would not allow looters to endanger the community. The curfew will run from midnight to 5 a.m. Sunday.
Nixon said the U.S. Department of Justice is beefing up its civil rights investigation of the shooting.
Missouri State Highway Patrol Capt. Ron Johnson, who is in charge of security in Ferguson, said 40 FBI agents were going door-to-door in the neighborhood starting Saturday, talking to people who might have seen or have information about the shooting.
Copyright 2014 CBS 5 (KPHO Broadcasting Corporation). All rights reserved. The Associated Press contributed to this report.