State knew about math teacher's history with alcohol
Posted:
Updated:
Kathleen Jardine, 57, accused of drinking in class. (Courtesy: PCSO)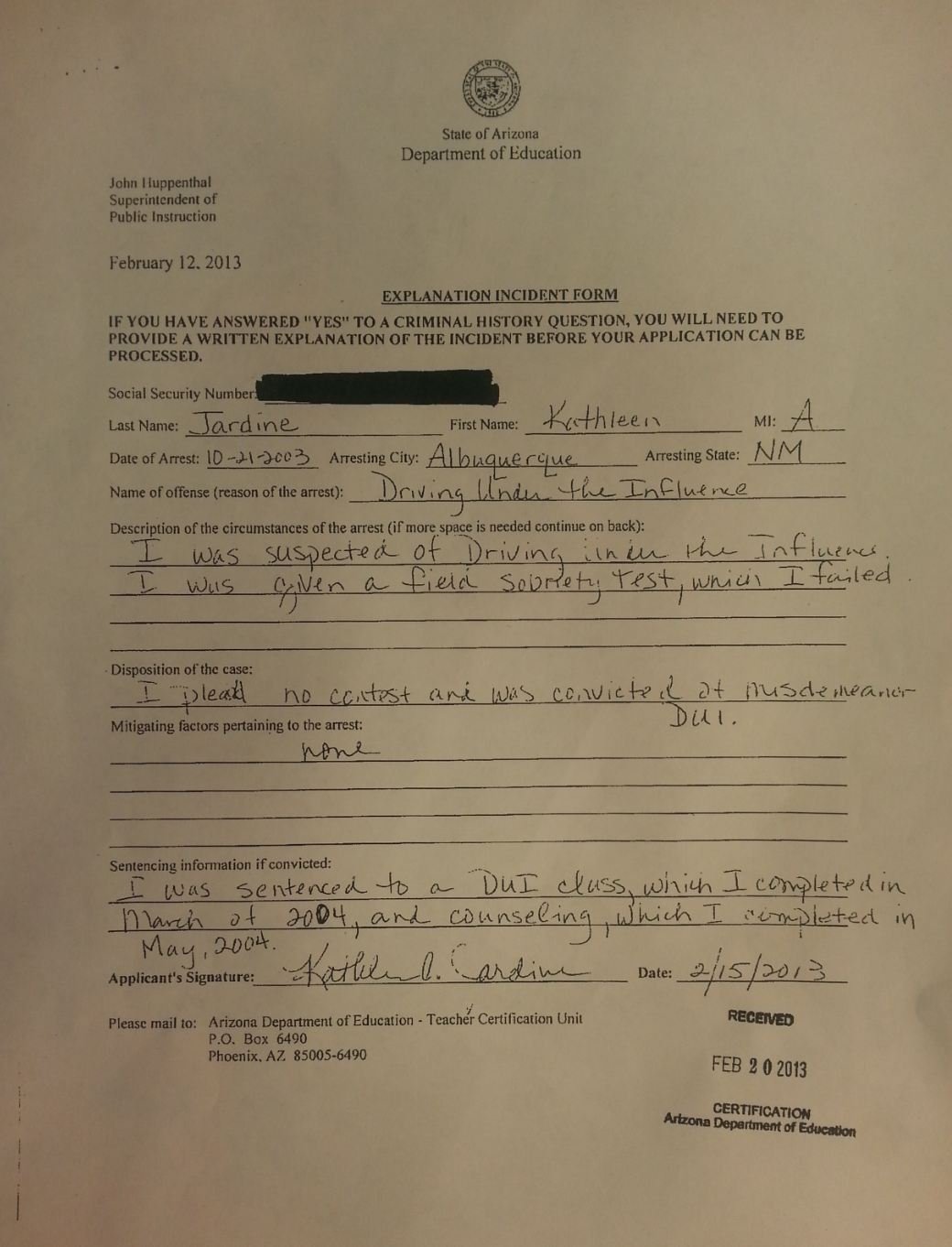 A page from Jardine's teaching application (CBS 5 News)
PHOENIX (CBS5) -
The Arizona Department of Education knew about a DWI that Kathleen Jardine, 57, was convicted of in 2004. Despite the conviction, Jardine was awarded a teaching certificate in 2013 and began teaching at Poston Butte High School in August of 2014.
The math teacher is now on paid administrative leave while she's being investigated for drinking on the job.
According to Pinal County deputies, students reported Jardine was intoxicated and deputies found bottles of alcohol in a classroom and it's not the first time she's faced alcohol-related charges.
CBS 5 obtained Jardine's application for an Arizona teaching certification. In the application, Jardine admitted to a DWI arrest she plead guilty to in New Mexico. Board of Education Director Christine Thompson said Jardine's application was reviewed by investigators and state officials opted to give Jardine a second chance.
"Driving under the influence 10 years ago does not necessarily flag someone that they're going to be drunk in the classroom," Thompson said.
The Department of Education did not know of Jardine's other brushes with alcohol-related incidents including one that resulted in her dismissal from Belen High School, south of Albuquerque. A spokesman for Poston Butte High School said Jardine had passed 'rigorous background checks' and they were also unaware of any questionable incidents.
Belen Superintendent Ron Marquez said Jardine was found to be drunk in class in 2011, just six months after she began working at the New Mexico high school.
"No one called me regarding her references," Marquez said. "She was discharged immediately."
The Belen School District filed a report with the New Mexico Department of Education (NMDOE). A spokesman said the NMDOE 'settled' with Jardine, agreeing to keep her teaching license if Jardine received 'treatment.' Thompson said because she had a valid license in another state, it did not raise more red flags when she applied in Arizona.
"If there had been action taken against her certificate in New Mexico, that would've been an indicator that further action might be warranted," Thompson said.
The Belen Police Department told CBS 5 the incident in 2011 did not warrant any criminal charges.
Police in Gilbert reported Jardine was arrested for a DUI on Tuesday and she told officers she was "coming home from school." Police said Jardine submitted to a breathalyzer and her BAC was recorded at a level over 0.25.
The following day, administrators at Poston Butte High School reported Jardine was drinking in class.
Investigators at the Department of Education are investigating and Jardine's teaching license could be revoked.
For more on this story and other stories around Arizona from this author, follow Shawn Kline on Facebook and Twitter.
Copyright 2014 CBS 5 (KPHO Broadcasting Corporation). All rights reserved.