UPDATE
Police ID suspect shot dead in violent carjacking
Posted:
Updated: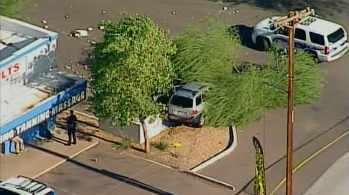 © CBS 5 News
PHOENIX (CBS5) -
Phoenix police have identified a man shot dead by a neighbor in a carjacking Friday afternoon.
Sgt. Tommy Thompson said the 29-year-old who died was Michael Medina.
The carjacking happened around 3:20 Friday afternoon near Clarendon and 21st Street when Medina approached a 66-year-old woman, who had just pulled into her driveway, and asked to use her phone, Thompson said.
When the woman said no, Medina pulled her out of her SUV, threw her to the ground and then jumped into the driver's seat.
A 63-year-old neighbor, who saw what happened, grabbed onto the passenger side door but fell down when Medina backed out of the driveway.
Thompson said that while all of this was happening, the neighbor's 66-year-old husband grabbed his gun and shot at the suspect as he drove away.
"The husband fired several rounds and the individual was struck by those bullets," said Thompson. "He drove to the area of 24th Street and Thomas where there was a collision. He went off the roadway and on the northeast corner. He went off the road into a wall and into a tree."
Thompson said Medina was taken to a hospital where he died.
An autopsy will be conducted to determine his cause of death.
Thompson said the carjacking victim was taken to a hospital where she's being treated for severe bruises.
Her neighbor suffered a head injury, but is expected to pull through.
Thompson said the investigation will be given to the Maricopa County Attorney's Officer for review.
However, he doesn't expect any charges will be filed against the neighbor who shot Medina.
Copyright 2014 CBS 5 (KPHO Broadcasting Corporation). All rights reserved.