'War Machine' arrested near Los Angeles
Posted:
Updated: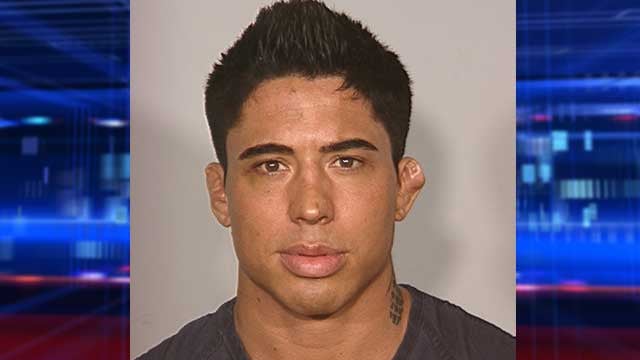 Jonathan Koppenhaver is seen in this previous booking photo. (Source: LVMPD)
LAS VEGAS (FOX5) -
A mixed-martial arts fighter who was wanted in connection with an alleged attack on his ex-girlfriend last week was arrested in the Los Angeles area Friday.
Las Vegas Metro police said that about 4 a.m. Aug. 8, they were called to a home in the 3400 block of Pueblo Way because of a domestic dispute.
Investigators did not provide many details about the allegations, but said that two people suffered severe but non-life-threatening injuries during the incident. They also said the primary suspect in the case is Jonathan Koppenhaver, a MMA fighter who goes by the name War Machine.
Christy Mack, the local woman and adult film star who claims she was attacked by Koppenhaver, said on her Twitter page that Koppenhaver stabbed her with a knife until the handle broke, beat her in the face and tried to rape her. She also posted images showing her face severely swollen and bruised.
On Friday, Nevada District U.S. Marshal Christopher Hoye said Koppenhaver was arrested in Simi Valley, CA.
TMZ reported Koppenhaver was found in a hotel room with pizza and a small amount of cash.
"This is yet another example of how our joint agency efforts are apprehending fugitives who think they can hide," Hoye said.
Hoye said Koppenhaver was being held in the Simi Valley Jail, where he awaits extradition to Las Vegas.
Copyright 2014 KVVU (KVVU Broadcasting Corporation). All rights reserved.