Daycare moms victimized by purse thief
Posted:
Updated: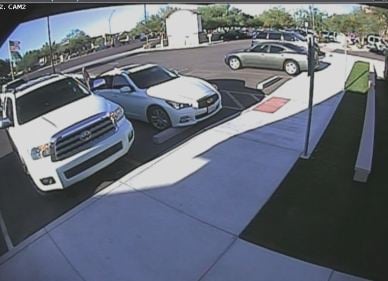 Video released to CBS5 by a Phoenix day care shows a smooth moving criminal stealing purses out of three different vehicles in just a matter of minutes.
Phoenix Police is investigating the thefts in which the crook can be seen on video staking out vehicles from an adjacent CVS parking lot.
The thefts occurred in the evening, between 5:45 p.m. and 6 p.m. on August 5. The video shows the thief pulling up to a vehicle that had just been vacated by a woman going inside to pick up her children.
The perpetrator crawls into the backseat of his own vehicle and opens the back door. While crouching low to the ground, he opens an unlocked car door and reaches in to grab a purse. He then slithers back into his own vehicle and into the front seat and drives away. The timestamp on the video reveals he is back safely in his vehicle in 15 seconds.
"We have seen a number of these crimes," says Phoenix Police Sgt. Steve Martos.
Phoenix Police have just unveiled a new campaign to remind people about the dangers of leaving their vehicle doors unlocked.
"They may say I forgot. Others think they live in a safe neighborhood and they wouldn't expect anything like that to happen there," said Martos.
Phoenix Police's new "TLC" campaign is a way to remind people to stay safe and not become victims. "TLC" is an acronym for take your property, lock your car and conceal your valuables.
In this instance, the suspect vehicle is a white 4-door Infinity with California license plates.
If you have information that could help Phoenix Police call 480-Witness.
Copyright 2014 CBS 5 (KPHO Broadcasting Corporation). All rights reserved.