Nixon turns Ferguson security over to Missouri troopers
Posted:
Updated:
By Chris Oberholtz, Digital Content Manager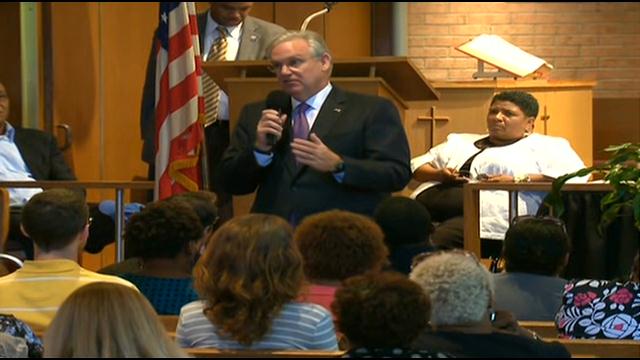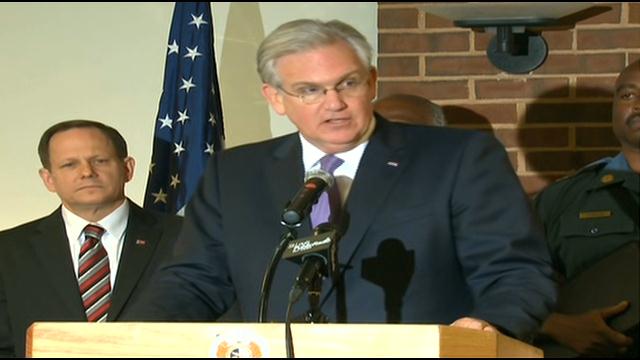 FLORISSANT, MO (KCTV/AP) -
Missouri Gov. Jay Nixon says the Missouri State Highway Patrol will take over the supervision of security in the St. Louis suburb that's been the scene of violent protests since a police officer fatally shot an unarmed black teenager.
Nixon made the announcement at a news conference Wednesday afternoon.

Nixon says the security will be overseen by Capt. Ron Johnson of the Missouri State Highway Patrol. Johnson, who is black, said he grew up in the community and "it means a lot to me personally that we break this cycle of violence."
Johnson said the community, state and even the nation "are looking for law enforcement leadership that serves the citizens," and every interaction with citizens will be done with the utmost of respect.
"I understand the anger and fear that the citizens of Ferguson are feeling, and our police officers will respect both of those," Johnson said.
Nixon promised a "different tone" in dealing with protests and issues in the coming days than has been seen.
"We need to dim that acceleration," he said.
He said one way toward doing that is to expeditiously release the name of the officer who shot and killed Michael Brown Jr., while ensuring the officer receives proper security protection.
"I would hope that the appropriate release of that name with the security around it to make sure that there is no additional of violence be done as expeditiously as possible," he said. "I think it would be an important milestone here to get that out as expeditiously as possible."
Ferguson police and St. Louis County police have refused to release the name.
Nixon is not putting the Missouri Highway Patrol in charge of the local investigation. He said the St. Louis County Police have "a fine, seasoned" team conducting their investigation.

The U.S. Justice Department and the FBI are conducting their own separate investigations beyond the local investigation. However, Missouri law enforcement officials, federal agents and St. Louis County prosecutors are conducting interviews of some witnesses at the same time.
"We let them do their job," Nixon said. "I don't think adding a third lane at this particular juncture is going to be helpful."

Before the news conference, Nixon visited the scene where Brown died during broad daylight Saturday as well as some of the sites where looting and rioting occurred. He also met with faith and business leaders.

"Over the past several days we have all been deeply troubled by this crisis," Nixon said. "As the pain of last weekends's tragedy have been compounded by days of grief and nights of conflict and fear. What has gone on here over the last few days is now what Missouri is about. It's not what Ferguson is about."

He said Ferguson this week has looked like a "war zone," and that's not acceptable. He said "we all need to join hands" to find a path forward for peace, stability and healing.
St. Louis County Executive Charlie Dooley said he has been saddened by what has occurred, and said it should "ought not to be a black and white thing."

"I am for justice. I am not for revenge. I am for doing what is right and making it right. We have a large job ahead of us: bringing this community together. It is not going to be a simple thing. There are too many questions that have not been answered that need explanations," Dooley said.
He called on St. Louis area residents to come together.

"The world is looking at us," he said.
Nixon himself said he was worried about "the vision" of the St. Louis area that the world is seeing this week. He said peaceful protests should occur and force should be used only when necessary.

St. Louis Mayor Francis Slay spoke at the news conference even though the tragedy is unfolding outside the city limits, but is clearly affecting the perception of St. Louis. He said a complete, thorough and independent investigation must occur as well as people heard.
Slay said the St. Louis Police Department will provide two experienced senior police commanders to help the Missouri Highway Patrol.

Before the news conference, the governor spoke at a meeting of clergy and community members. Nixon told the audience that "you all will see a different tone" in law enforcement's response to the demonstrations in the town of Ferguson.
The governor told the audience that "you all will see a much better and much different tone."

The governor said he was late to the meeting because he had been on the phone with President Barack Obama, who sent "wishes of peace and justice."
Nixon said he appreciates Obama's offers of assistance to "find a safe and peaceful path that leads to justice and growth." Both Nixon and Obama thanked faith leaders who are demanding answers while respecting others and working for peace.
"I know emotions are raw right now in Ferguson, and there are certainly passionate differences about what has happened," Obama said. "But let's remember that we're all part of one American family. We are united in common values and that includes the belief in equality under the law, respect for public order and the right to peaceful public protests."
Obama, speaking from the Massachusetts island where he's on a two-week vacation, said there was no excuse for excessive force by police in the aftermath of Saturday's shooting.
Police on Thursday defended the use of tear gas and smoke bombs to repel demonstrators after another night of chaos over Brown's death.
St. Louis County police spokesman Brian Schellman said officers on Wednesday night tossed tear gas to disperse a large crowd of protesters after some threw Molotov cocktails and rocks at officers. More than 10 people were arrested in Ferguson.
"In talking to these guys, it is scary," Schellman said of officers on the front lines of the protest. "They hear gunshots going off, and they don't know where they're coming from."
But the police response has drawn heavy criticism from many circles including elected officials. Civil rights activist Al Sharpton called Thursday for the Justice Department to monitor Ferguson and the way police are handling the crisis.
"Even if we disagree, this climate is not good for anyone and is dangerous for everyone," Sharpton said in a statement.
At the community meeting, Sierra Smith, who lives in the neighborhood where Brown was shot, told the governor "the police have no respect at all for the community."
Nixon responded that the Bill of Rights gives the people "the right speak truth to power" and "we will work to live out those rights."
Nixon has faced increasing criticism over suggestions he has not done enough to calm tensions.
State Sen. Maria Chapelle-Nadal had been particularly critical of the governor, accusing him of being missing in action during the crisis. In an interview on MSNBC, she called the governor a "coward."
The police chiefs of Ferguson and St. Louis County said Wednesday that race relations were the top priority in the town.
Officers from multiple departments in riot gear and in military equipment have clashed nightly with protesters, who chant, "Hands up, don't shoot." Protesters faced heavily armed police who at times trained weapons on them from armored trucks.
Two reporters said they were detained by police for not clearing out quickly enough from a McDonald's where they were working, near the protests but away from the more volatile areas. The two, who work for The Washington Post and The Huffington Post, were released without any charges. Both say they were assaulted but not seriously hurt.
Among those arrested was St. Louis Alderman Antonio French, who has been chronicling the protests on social media.
"I think the heavy-handed approach by police is escalating the situation and more people are going to get hurt if this keeps up," French told KMOX Radio.
Residents in Ferguson have complained about the police response that began soon after Brown's shooting with the use of dogs for crowd control - a tactic that for some invoked the civil rights protests from a half-century ago. The county police force took over, leading both the investigation of Brown's shooting and the subsequent attempts to keep the peace at the smaller city's request.
County Police Chief Jon Belmar said his officers have responded with "an incredible amount of restraint" as they've had rocks and bottles thrown at them, been shot at and had two dozen patrol vehicles destroyed.
The city and county are also under criticism for refusing to release the name of the officer who shot Brown, citing threats against that officer and others. The hacker group Anonymous on Thursday released a name purported to be that of the officer, but the Ferguson police chief said later that the name was incorrect. Twitter has since suspended the account.

St. Louis County police and the FBI are investigating the shooting. County prosecutor Bob McCulloch said Wednesday that it could be several weeks before the investigation wraps up and authorities decide whether to charge the officer.
Police have said Brown was shot after an officer encountered him and another man on the street. They say one of the men pushed the officer into his squad car, then physically assaulted him in the vehicle and struggled with the officer over the officer's weapon. At least one shot was fired inside the car. The struggle then spilled onto the street, where Brown was shot multiple times.
Jackson said Wednesday that the officer involved sustained swelling facial injuries.
Dorian Johnson, who says he was with Brown when the shooting happened, has told a much different story. He has told media outlets that the officer ordered them out of the street, then grabbed his friend's neck and tried to pull him into the car before brandishing his weapon and firing. He says Brown started to run and the officer pursued him, firing multiple times.
Johnson and another witness both say Brown was on the street with his hands raised when the officer fired at him repeatedly.
Copyright 2014 KCTV (Meredith Corp.) and Associated Press. All rights reserved.
Nixon turns Ferguson security over to Missouri troopers

More>>