Do homework before hiring tree service
Posted:
Updated: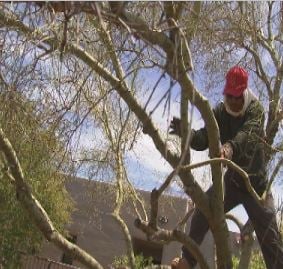 PHOENIX (CBS5) -
There are a lot of tree trimming companies doing business across the Valley.
They put flyers on the front door of homes and free estimate offers in driveways.
"Some of them put just a little card in a plastic bag and a rock," said Phoenix homeowner Rick Baker.
So how do you know which tree services are legit and which ones are little shady?
Consumer experts suggest:
Do your homework before a big tree comes crashing down in your front yard.
Get a referral from a friend or family member.
Make sure the company is licence, bonded and insured.
Check out the Arizona's Better Business Bureau website -to see how the company responds to complaints.
CBS 5 News did some research to find some of the best and worst rated tree services, according to the BBB.
The Valley companies that have received an F rating include:
2 Idiots in a Tree in Chandler
E and J Tree Service in Apache Junction
High Climbers Tree Removal Service in Phoenix
Arborlife Tree Care in Phoenix
Here's a look at the Tree Service companies that received an A-plus rating.
Branch Management Tree Service in Scottsdale
Tidy Tree Trimming in Phoenix
Broken Limb Landscaping Service in Peoria
Mountain Man Trees in Mes
Copyright 2014 CBS 5 (KPHO Broadcasting Corporation). All rights reserved.