Committee to work with city on expanding transportation options
Posted:
Updated: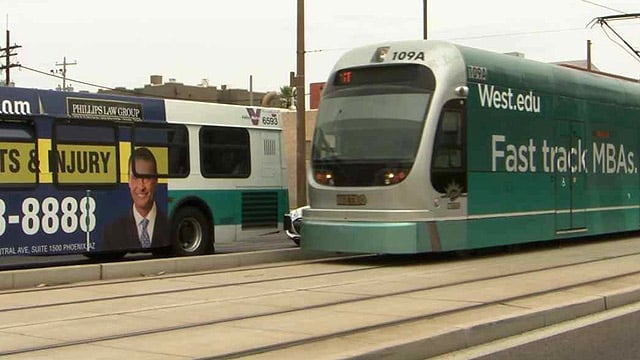 The city of Phoenix is looking to expand light rail and bus service. (Source: CBS 5 News)
PHOENIX (CBS5) -
The city of Phoenix is looking to expand light rail and bus service and Former U.S. Secretary of Transportation Mary Peters is spearheading a committee to get it done.
Peters, a Phoenix resident was appointed by the City Council in July and the focus of an event Tuesday in the heart of the city's bus and light rail system was to unveil how the city plans to get the community's input.
The light rail trains and buses are enveloped in a wrap touting the website talktransportation.org, which will be used to gather the public's input on transportation options.
After gathering the public's input through the site and a series of public meetings, the committee will propose funding venues for extending light rail routes to areas such South Phoenix, the West Valley and the northeast part of the city.
"So the 20-year (funding) source that was passed in Transit 2000 will go away in the not-too-distant future," Mayor Greg Stanton said. "Right now we have enough money to maintain the system but not enough money to expand the system.
"By getting this plan right and by getting it to the people of Phoenix to vote on, we have a unique opportunity to really start growing the system again," he said.
The committee will also give the city potential bus and light rail routes it should consider building and whether a proposition is needed for the funding.
The recommendations are expected by the end of this year.
Copyright 2014 CBS 5 (KPHO Broadcasting Corporation). All rights reserved.