UPDATE
MCSO worker indicted for impersonation, distributing confidential info
Posted:
Updated: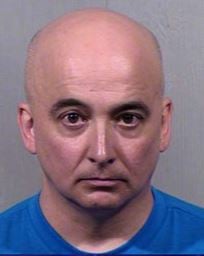 Joseph Asarisi, 48 (Source: Maricopa County Sheriff's Office)
PHOENIX (CBS5) -
A civilian employee working for the Maricopa County Sheriff's Office was arrested after deputies said he received and distributed sensitive information intended for law enforcement personnel only.
Joseph Asarisi, 48, a naturalized citizen from Ukraine and an 11-year employee of the Maricopa County Sheriff's Office, was arrested by MCSO deputies after an investigation that took them coast-to-coast.
Asarisi posed as a law enforcement officer and obtained hundreds of sensitive documents from various law enforcement sites, including Homeland Security and the Los Angeles County Sheriff's Office, Maricopa County Sheriff Joe Arpaio said.
He forwarded the information to people not in law enforcement, including an anti-government author based in New York City, Arpaio said.
MCSO detectives traveled to Los Angeles to interview a deputy who provided many of the intelligence reports to Asraisi. They also traveled to New York City to interview the author who received some of the reports, Arpaio said.
The author initially denied knowing of Asarisi or his emails but when pressed, quickly refused to cooperate and referred detectives to his attorney, Arpaio said.
Asarisi had worked in the MCSO inmate laundry division since 2003, Arpaio said.
The investigation began soon after employees in the sheriff's technology bureau noticed a large amount of terrorism-related documents on Asarisi's profile and reported it the sheriff's Criminal Intelligence Division for review.
After a month-long investigation, a search warrant was executed in June on Asarisi's work and home computers, Arpaio said.
The investigation showed Asarisi used his sheriff's office email address as "proof" that he worked for law enforcement to access to law enforcement-only documents pertaining to terrorism, human trafficking, Jihadist reports, and national and international intelligence hot sheets.
"A number of law enforcement agencies assisted us in this investigation in the beginning, each understanding how dangerous a leak of this kind of information could potentially be, particularly if he was sharing this information to those with anti-American interests," Arpaio said. "At this point we believe we stopped it in time before this confidential information got into the wrong hands."
Asarisi arrested and booked and subsequently indicted on felony charges of impersonating a police officer, forgery and computer tampering.
Copyright 2014 CBS 5 (KPHO Broadcasting Corporation). All rights reserved.
UPDATE

MCSO worker indicted for impersonation, distributing confidential info

More>>

SLIDESHOW: Butler's home


More >