UPDATE
16 motorists rescued as monsoon storms thump Phoenix
Posted:
Updated: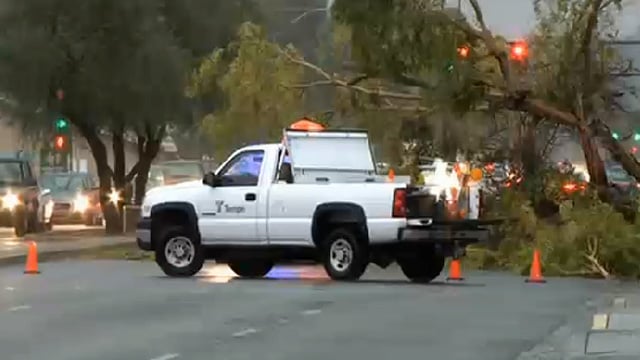 The storm uprooted trees and downed power lines. (Source: CBS 5 News)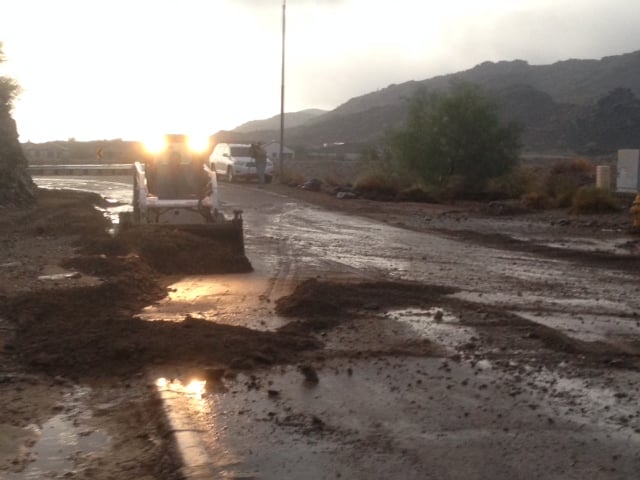 South Mountain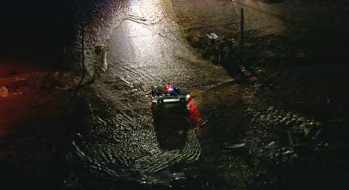 Eleven motorists were rescued in south Phoenix. (Source: CBS 5 News)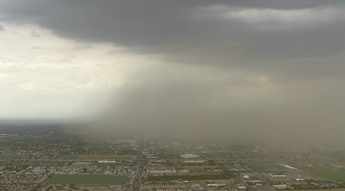 Gusty outflows whipped up dust on Tuesday in the East Valley. (Source: CBS 5 News)
PHOENIX (CBS5/AP) -
A powerful monsoon rolled through the Valley on Tuesday afternoon, toppling trees, cutting power and leaving almost a dozen motorists stranded in high water.
Phoenix firefighters said at least 16 motorists were rescued after getting stuck in water near 19th Avenue and Dobbins Road shortly after 6:30 p.m. Phoenix firefighters said fast-moving water engulfed Dobbins Road.
The Phoenix Fire Department said a man had a medical condition and was taken to a hospital in extremely critical condition.
Phoenix fire Capt. Ruben Saavedra said cars were getting pushed off the road by rushing water.
"Most of the cars were pushed to the north side of Dobbins Road and that's where they got stuck," Saavedra said.
Firefighters had a tough time reaching the area because their vehicles were getting stuck, too, Saavedra said.
Tuesday night's monsoon storms also triggered a rockslide at South Mountain Park. Several cars were trapped and hikers had to abandon their vehicles. Crews were working Wednesday morning to get the vehicles out.
Phoenix Parks and Recreation Department spokesman David Urbinato said staff will keep the Summit Road closed to all vehicles at least through early next week. They are meeting with street engineers and landscape architects to evaluate the repair and inspection process. The lower section of the roadway up to the 1-mile mark will remain open, providing access to the Ranger and Kiwanis trailheads and the Big and Little Ramada areas.
Arizona Public Service reported 2,400 of its customers were without power in Tempe from Rio south to Broadway and from Farmer to Beck.
The storm also cut power to 1,485 Salt River Project customers. The outage extended from Mesa Drive to Gilbert Road and University Drive to Baseline Road.
Some flights at Sky Harbor International Airport were delayed Tuesday night.
Things started revving up at around 4:20 p.m., when news helicopter pictures showed a wall of dust near Queen Creek. The gusty outflow winds left behind toppled trees in various spots.
The monsoon action also produced a surge of moisture, which increased the threat of flash flooding.
A flash flood warning is in effect until 8:15 p.m. for central Maricopa County, CBS 5 Chief Meteorologist Chris Dunn said. This includes the areas of Glendale, Youngtown, Waddell, Tolleson, Surprise, Sun City, Peoria, New River, Goodyear, El Mirage and Avondale.
A flash food watch remains in effect through Wednesday morning for the Greater Phoenix area, northwest Maricopa County and north central Pinal County.
In Tempe, College is closed northbound and southbound at Broadway Road due to a toppled light pole hung up in electrical wires.
By early evening, rainfall totals began adding up. They included:
1.71 inches - South Mountain
1.18 inches - Laveen
1.14 inches - Mesa-Gateway Airport
0.18 inches - Laveen
A storm spotter reported half-an-inch of rain in 30 minutes, the National Weather Service said.
The monsoon storm dumped up to 2 inches of rain on parts of northwest Tucson.
Authorities said the storm caused flash flooding in Saguaro National Park's Tucson Mountain (West) District. Some dirt roads in the park were washed out and had to be closed.
Police in the southern Arizona town of Marana said several roads were closed due to flash flooding caused by the heavy rainfall.
There have been no reported injuries.
Heavy rainfall from afternoon and evening showers and thunderstorms are expected to flood many urban areas, especially dry washes, CBS 5 Meteorologist Katie Baker said.
Flooding will remain a concern through Wednesday morning, but should clear up by Thursday, Baker said.
The Phoenix Fire Department said residents can pick up sand for sandbagging on a first-come, first-served basis, should it become necessary. The locations are:
Station 11 at 2727 E. Roosevelt St.
Station 26 at 3301 W. Rose Lane
Station 31 at 5730 E. Thunderbird Rd.
Station 36 at 21602 N. Ninth Ave.
Station 39 at 2276 W. Southern Ave.
Station 40 at 3838 N. 83rd Ave.
Station 43 at 4110 E. Chandler Blvd.
Station 48 at 5230 W. Happy Valley Rd.

Station 49 at 3750 E. Dynamite Blvd.
Station 52 at 21650 N. Tatum Blvd.
Sand is also available at Phoenix Streets Facilities between 6:30 a.m. and 3:30 p.m. Those locations are:
Southwest Division at 3045 S. 22nd Ave.
North Division at 138 E. Union Hills Dr.

Southeast Division at 3828 E. Anne St.
Central Division at 4020 W. Glenrosa
People must supply their own bags and shovels.
A strong storm system blew through the Valley on Monday, bringing hail, rain and damage to trees and power lines.
The ringing of chainsaws and sound of trees smashing to the ground replaced the pounding rainfall Monday afternoon in a Chandler neighborhood near McQueen Road and Riggs Road. The rainfall was fierce.
"Like somebody opened up a bucket of water," Greg Czaplewski said.
"I would guess we got a half [of an inch] to three-quarters, it came down pretty good," Steve Huber said. "I didn't hear a thing. I walked out here into my garage, was going to go to the store, and I couldn't get out of my driveway."
Rain totals as of 4:30 a.m. Tuesday included 0.87 inches in Fountain Hills, 0.39 inches in Scottsdale and 0.28 in Buckeye. Ironically, the Phoenix reporting station at Phoenix Sky Harbor International Airport received no rain.
"I knew something was going to happen, it was just so windy. But I never expected it to be something that serious," Czaplewski said.
Both neighbors said that while they don't mind rolling up their sleeves and picking up Mother Nature's mess, it is sad to see such majestic trees fall.
"We keep them as thin as we can so the wind will blow through them, and as you can see even the big limbs, 8-inch limb, breaks off," Czaplewski said.
"I used to work for a tree service when I was a kid so I knew what I was doing but apparently not with this wind," Huber said.
Crews worked to restore downed power lines along Camelback Road and in Goodyear.
About 2,000 Salt River Project customers were without electricity near Apache Junction and Gold Canyon for about an hour after a thunderstorm hit the area on Monday.
Officials with the utility company said the storm struck around 5:30 p.m. Crews were able to restore power to the affected homes and businesses within an hour of the outage.
The National Weather Service in Phoenix later canceled a severe thunderstorm warning originally issued for parts of south Phoenix plus Ahwatukee, Sun Lakes and Laveen.
Monday night, another pocket of heavy rain fell in Anthem. CBS 5 Chief Meteorologist Chris Dunn said a weather spotter recorded almost three-quarters of an inch of rain fell in Anthem in 20 minutes.
Strong thunderstorms were spotted earlier Monday in San Tan Valley, southeast of Queen Creek.
Copyright 2014 CBS 5 (KPHO Broadcasting Corporation). All rights reserved. The Associated Press contributed to this report.
UPDATE

16 motorists rescued as monsoon storms thump Phoenix

More>>

Friday, August 1 2014 12:23 PM EDT

2014-08-01 16:23:02 GMT

2012 Monsoon Season 2011 Monsoon Season Monsoon Resources Weather Slideshows Monsoon Photo Contest

More >

Here are some dust storm driving tips:

More >