ONLY ON 5
Phoenix son films dad as he gifts him his dream car
Posted:
Updated:

1953 Hudson Hornet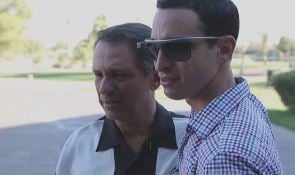 Larry and Aaron Benson
PHOENIX (CBS5) -
Talk about 'paying it forward' to a man who gave him life!
A 27-year-old Phoenix Realtor recently bought his dad the car of his dreams.
But, finding it wasn't easy as there aren't many 1953 Hudson Hornets on the market.
Aaron Benson filmed his father's surprise and posted it to YouTube, where it already has more than 20,000 views.
Back in June, he pulled a little prank, telling his father, a self-described car buff, that he was being interviewed for a car show.
"I wanted to have him with his back facing the garage," explained Aaron Benson. "And, we were talking to him, had him turn around - while he was still talking - because I wanted to catch his thought process while he was seeing the car for the first time."
The look on Larry Benson's face is priceless as it changes from confusion, to shock, to tears of joy when he realizes the car is his.
"Everyone wants to have their children love you," said Larry Benson, a 63-year-old Phoenix dentist. "But, when you see it in a very visible way - when that much effort has been put out - it means that much more. That's another reason why I as so emotional, is because what he had done for me and knowing that what I've done for him has been appreciated, as a father."
Larry Benson had been looking for years to buy a 1953 Hudson Hornet, just like the one his dad owned during his childhood on Long Island, NY.
But in June, Aaron Benson beat his father to it.
After finding a car for sale in Florida, he handed over the keys to a classic beauty.
"He's just a hard worker and has always been such a great dad," Aaron Benson explained about his purchase. "And, I just couldn't think of anything better to show my appreciation than to get him this car."
The 1953 Hudson Hornet has a special meaning to Larry Benson as he remembers learning to drive in it and taking it on cross-country family trips during summers.
The life of his father's car came to an end when his mother got into an accident that totaled it.
Fortunately, she wasn't hurt, thanks to the car's sturdy design.
Today, he's just thrilled to have his favorite car among his classic collection.
"For the next couple of days after I had the car here at the house I would just get up in the morning and go out and look at it real quick to make sure it wasn't a dream," Larry Benson said.
He has been a member of a local Hudson club for about 15 years.
Now, Larry Benson said he's looking forward to having a car to take to their events.
Copyright 2014 CBS 5 (KPHO Broadcasting Corporation). All rights reserved.