Some call Andrew Thomas' new campaign ad racist
Posted:
Updated: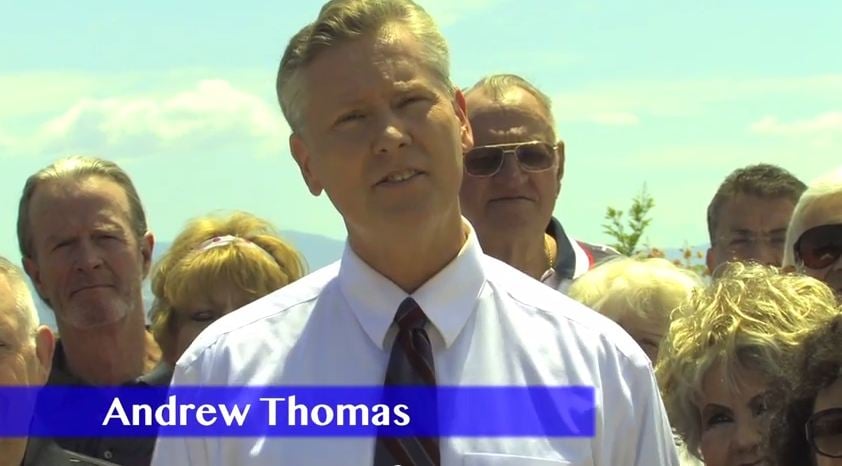 © Thomas For Governor
PHOENIX (CBS5) -
Former Maricopa County Attorney Andrew Thomas is among more than a dozen candidates vying to be the next governor of Arizona. But his new political advertisement is rubbing a lot of people the wrong way.
"He's the only candidate who has stopped illegal immigration, stood up to the gay lobby and opposed liberal judges," said a narrator in the ad.

The ad just hit broadcast waves and some are already calling it discriminatory, even disgusting.
"When I enforced the law, illegal immigrants fled the state, now they stay and protest," the narrator continued.
The ad finishes with the narrator saying, "Vote Andrew Thomas before it's too late," showing a Mexican flag superimposed over the outline of Arizona.
Thomas is no stranger to controversy. In 2012 he was disbarred after an ethics panel said he filed bogus criminal charges against two county officials.
And taxpayers may be footing the bill for this ad that's stirring up so many emotions. That's because the Citizens Clean Election Commission granted Thomas $753,616 in public money for his campaign.
"Not all immigrants, and certainly not all undocumented immigrants in the state of Arizona, come from Mexico," said immigration activist and playwright James Garcia. He said this is the kind of attitude that's hurt Arizona's reputation and economy.
"The last thing we want to do now is find another scapegoat, whether it's homosexuals, Mexicans, or brown people in general," Garcia said.

Thomas declined an on-camera interview but sent us a statement saying:
"I am pleased to report my campaign has received a very strong, positive response to my new campaign ad. Voters can see I am the one true conservative running for Governor, someone who will stand up and fight for them."
Copyright 2014 CBS5 (KPHO Broadcasting Corporation). All rights reserved.