Opposition campaign signs create more confusion for voters
Posted:
Updated: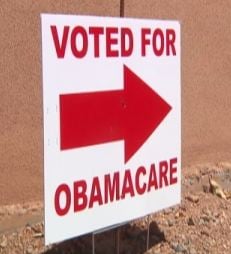 PHOENIX (CBS5) -
It's against the law to damage or destroy someone's political sign, but that hasn't slowed down a new wave of negative campaigning.
Across the Valley, a number of opposition signs with arrows are being strategically placed next to candidates' campaign signs.
Political consultant Stan Barnes, with the Copper State Consulting Group, said the signs are designed to draw negative attention to a specific candidate.
"If you can't steal your opponents sign, legally, what you can do is influence his sign," said Barnes. "So we've got the birth of opposition signs -pointing at candidates - pointing with disparaging messages."
State lawmaker Heather Carter (R-Cave Creek), whose running for re-election in District 15, is the target of the latest sign war.
A number of signs started popping up in the North Valley a couple weeks ago, stating that "Heather Carter voted to raise your taxes."
But instead of getting mad, Carter got even.
Carter created almost identical looking signs that say, "Heather Carter voted to cut your taxes."
Carter placed her signs directly next to the other ones.
"When I first saw the signs that said I voted to raise taxes, I knew that was inaccurate," said Carter. "I had to come up with an idea that explained the truth to voters, so I created a sign that said I wanted to lower your taxes."
Carter told CBS5 that her voting record over the past four years speaks for itself, clearly showing a history of bills she supported that lower taxes.
However, when it comes to political ads, false or misleading information is all part of the game.
So just how effective are these new opposition signs?
According to political experts, they have had an impact.
"It drives candidates crazy and voters seem to pay attention, because there's this newness of the arrow," said Barnes. "Voters are driving and making the connection between this and that, so it makes it more entertaining for roadside signage."
Carter said she's not worried about the dueling signs confusing voters.
They've actually motivated voters more involved to seek out the truth, and the facts behind the ads, Carter said.
Copyright 2014 CBS 5 (KPHO Broadcasting Corporation). All rights reserved.