Recalled senator offered job at Maricopa County Treasurer's Office
Posted:
Updated: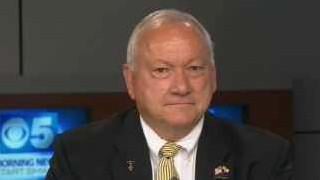 Russell Pearce
PHOENIX (CBS5) -
Former State Sen. Russell Pearce has a job offer from the Maricopa County Treasurer's Office and he has "tentatively accepted the position."
Treasurer Charles Hoskins told CBS 5 News, he wants to hire Pearce as his Technical Services Division Manager.
It's an appointed position that has been vacant for nearly five years, due to budget cuts, said Hoskins.
He said Pearce's main role would be to oversee the office's Elderly Assistance Fund, which helps financially-strapped seniors pay a portion of their property taxes.
Pearce, a Mesa Republican who authored the state's controversial immigration bill SB 1070, was voted out of office in 2011 after a historic recall election.
Prior to that, according to his application with the county, he left his position as director of Arizona's Motor Vehicles Division in 1999 at the request of then-governor Jane Hull.
But, Hoskins said none of that matters to him.
He said issues surrounding the polarizing political figure are, "irrelevant to the job Pearce would be doing."
Pearce was supposed to report to work at the end of July.
But he said he asked for, and was granted, more time to consider the responsibility.
If Pearce does take the job, he'd earn about $85,000 a year – which Hoskins said would make him the office's lowest paid manager by about $10,000.
Hoskins said Pearce, who also has his own conservative radio show, is involved with political campaigns.
So, he likely wouldn't start until after the November election.
Pearce told CBS 5 News, he has been "enjoying his retirement and working with groups across the country on constitutional freedom."
But the 67-year-old said he's about 90 percent sure he'll formally accept the position with the county treasurer's office, calling it "a great opportunity."
Meantime, the group Citizens for a Better Arizona are holding a rally against the hiring of Pearce.
It's will be at noon Wednesday at the Maricopa County Treasurer's Office.
Copyright 2014 CBS 5 (KPHO Broadcasting Corporation). All rights reserved.