AG whistle blower: He needs to be held accountable
Posted:
Updated: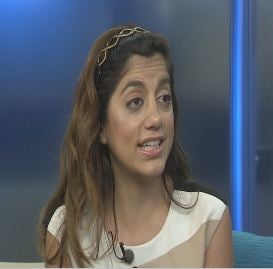 Sarah Beattie accused AG of violating campaign fiance laws
PHOENIX (CBS5) -
She's the woman who blew the whistle on Tom Horne, accusing Arizona's Attorney General of violating campaign finance laws.
Sarah Beattie told CBS5 Thursday that she is standing by her story and she's got the evidence to back it up.
"He's either lying to himself or he's in denial," said Beattie. "I cant figure it out."
Horne's former administrative assistant came forward a couple months ago and accused the AG of running a re-election campaign out of the executive office, at taxpayer's expense.
Beattie worked at the AG's office for 6 months and said she was pressured, along with other staff members, to work on Horne's campaign during regular business hours.
"I don't think he realizes the severity of what he does," said Beattie. "I think he's been doing it for so long that it didn't feel wrong to him."
On Wednesday, Arizona's Secretary of State determined that emails, texts and other information Beattie provided, made it likely that Horne violated campaign finance laws.
The case was referred to the solicitor general, who will select an outside agency for further investigation.
Horne has repeatedly denied doing anything wrong.
His office released this statement:
"These allegations are brought by a woman who has a history of making claims when she leaves employers. I have filed 11 witness statements indicating there is nothing to these allegations. I therefore look forward to this investigation being a complete vindication. The internal investigation will be terminated as there is no reason to have two investigations at the same time. I have instructed my staff to cooperate fully with any investigation taking place."
Beattie told CBS5 that Horne has not provided any proof to clear his name.
"His response to 100 pages of fact has been character assignation. I have nothing to say to that," said Beattie. "It would have been easier for me to just shut up and keep my mouth shut and keep the job, and just comply because it has been torture being dragged through the mud by them. I think he needs to be held accountable. He's not above the law."
Copyright 2014 CBS 5 (KPHO Broadcasting Corporation). All rights reserved.