State superintendent breaks down, 'repudiates' blog posts
Posted:
Updated: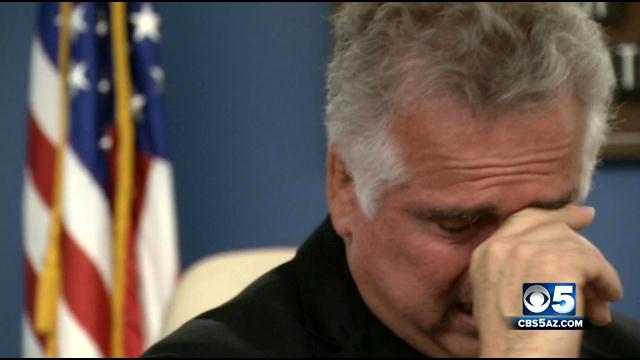 Arizona Superintendent of Public Instruction John Huppenthal broke down in tears at the end of a press conference Wednesday. (Source: CBS 5 News)
PHOENIX (CBS5) -
Arizona Department of Public Instruction Superintendent John Huppenthal's plea for forgiveness Wednesday ended with him breaking down.

"The person I feel most, you know to the point of my own tears, is my assistant Merle," Huppenthal said as he visibly fought back tears. "She's been with me," he added as he walked off from the news conference in tears.

It began, however, with him apologizing for posting, what some call ethnically offensive and possibly racist comments, on political blogs.

"I'm here today because of those hurtful blog comments, my blog comments," he said. "I'm here today to repudiate those blog comments."

In one, he said:
"We all need to stomp out balkanization. No Spanish radio stations. No Spanish billboards. No Spanish TV stations. No Spanish newspapers. This is America. Speak English."
"They are not what's in my mind," Huppenthal said referring to the posts."They don't reflect the love that is in my heart."

Minutes after Huppenthal said he will still run for re-election and will not resign, a group of community and business leaders called for him to step down.
"If he does not [resign] Arizona must not re-elect John Huppenthal," said Michael Kelly, a board member with the Arizona Community Foundation.

It's a point former state superintendent Lisa Graham Keegan hoped we wouldn't get to. She says Huppenthal has been a colleague of hers for a long time.

"When you hear these things, it suddenly occurs to you this isn't the person that you thought you knew," Keegan said. "You question your own judgment."

'Judgement' is exactly what Keegan says Huppenthal will have to fight against when it comes to the community he serves.
"...in a really, really intentional, specific and exhausting sort of way. So he's got a steep path ahead of himself," former state superintendent Lisa Graham Keegan said.
Copyright 2014 CBS 5 (KPHO Broadcasting Corporation) All rights reserved.