AZ schools superintendent outed as anonymous blogger
Posted:
Updated: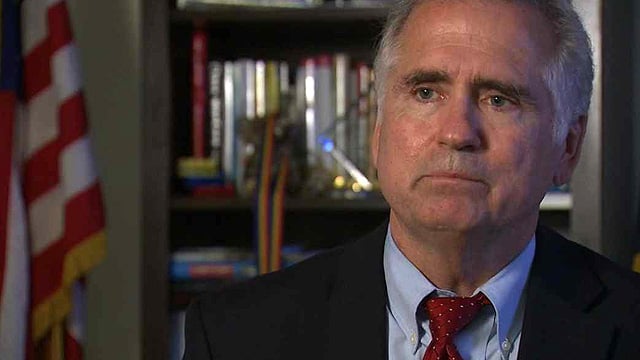 Arizona Department of Education Superintendent John Huppenthal has been exposed as the author of a cache of anonymous blog comments written under the pseudonym "Thucydides." (Source: CBS 5 News)
PHOENIX (CBS5) -
Arizona Department of Education Superintendent John Huppenthal has been exposed as the author of a cache of anonymous blog comments written under the pseudonym "Thucydides."
Attorney Bob Lord runs the website Blog For Arizona and he's the one who outed Huppenthal by tracing the IP address of "Thucydides" to a computer inside the state's Department of Education building.
"We even had one that came from Japan, when he was in Japan," Lord said with a chuckle.
Lord said Huppenthal was posting on blogs like Seeing Red, Democratic Diva and Sonoran Alliance.
"If it was a political site or an education-related site or any site that mentioned him, he was on there commenting," Lord said. "I have to believe he was our most frequent commenter by a long shot."
Lord said the posts were made at all times of the day.

CBS 5 News found four back-to-back posts starting at 4:31 a.m. one day to 6:15 a.m.

"There was one where he referred to poor people as lazy pigs," Lord said. "There was another where he referred to the Mexican-American studies program down in Tucson as the 'we hate whitey' program."

A handful of posts made comparisons to Hitler and the Nazis.
One here from Seeing Red:
"Hitler worked to eliminate the Jews. Margaret Sanger founder of Planned Parenthood was given the job of eliminating African-Americans. Hitler fed 6 million Jews into the ovens. Sanger has fed 16 million African-Americans into the abortion mills."
Hupenthal's staff furnished this statement to CBS 5 News on his behalf Wednesday night:

"I take my role as an American citizen seriously and public policy has been a passion of mine for my entire life. In recent years, I have chosen to participate in online blogs as a forum to advocate for and discuss issues related to economics, energy, criminal justice reform and in recent years, education.
"I have engaged in these debates under the moniker 'Falcon9' and 'Thucydides.' I chose this approach because I felt that any other would limit a free and open exchange. Anonymous discourse has been an established practice throughout U.S. history, including the development of the Federalist Papers, and has become even more prevalent since the advent of the internet.
"I strongly believe that no citizen should give up their right to free speech - sourced or anonymous - simply because of a position they hold. However, I take my position as an Arizona leader very seriously and I sincerely regret if my comments have offended anyone.
"I do need to say that context is everything.
"Philosophical political bias can inhibit unbiased understandings. Given this, I have three main points to make with regard to my online blogging.
"First, it is no accident I have been in the public policy arena for 30 years in elected office. I am a passionate advocate for furthering our understanding of public policies that affect our citizens. I care deeply about education, criminal justice, economics and policies that affect the general welfare of our society. Blogging is only one avenue of discourse that I've engaged in over my public career.
"Second, Why did I blog anonymously? I believe in rigorous public discourse, in furthering ideas and reforming ideologies that don't always work. I have engaged both sides of the ideological spectrum to think deeper about their positions. I recognized my position as an elected official would influence the dialog, and I was interested strictly in an exchange on issues and ideas. Anonymity has its value as our founding fathers believed when they developed the Federalist Papers. It is not a new concept, our history reflects that.
"Third, In fairness, my blog entries have been taken completely out of context, or perhaps, misunderstood. Why would I devote my life to uplifting the human condition if I truly believed the insinuations that are being derived from a few of my specific comments. I do not apologize for holding conservative values that I have fought for during my 30 years in public life. I do however, regret that the intent of my comments have been misconstrued."
Copyright 2014 CBS 5 (KPHO Broadcasting Corporation). All rights reserved.