Monsoon awareness week announced
Posted:
Updated: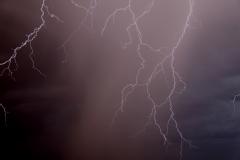 PHOENIX (CBS5) -
Arizona Gov. Jan Brewer has called June 8 through 13 Monsoon Awareness Week in Arizona.
The 2014 Monsoon in Arizona gets underway this month and lasts through mid-September.
"Arizonans enjoy the refreshing rains that accompany the monsoon," said Arizona Division of Emergency Management (ADEM) Director Wendy Smith-Reeve. "But we have to be prepared for the severe weather that may come along with it."
Arizonans are being urged to be prepared to handle the summer's expected severe weather hazards. According to state officials, most Arizonans associate the monsoon with scattered showers and higher humidity. However, they say, thunderstorms can cause localized flash flooding, dust storms and lightning-sparked wildfires.
ADEM has partnered with the National Weather Service, the state's departments of Health Services, Insurance, Public Safety and others to advocate preparedness before the "rainy season." They are encouraging Arizonans to take the following actions:
Plan: Write communication and evacuation plans that identify a family meeting place, account for individuals' unique needs and family pets, and include an out-of-town contact. Practice your plan.

Prepare: Set aside enough non-perishable food and potable water to sustain your family (including pets) for 72 hours. Suggested kit items include first aid supplies, a radio, batteries and a flashlight. Pack a smaller "go kit" with copies of important documents, cash and a phone charger for evacuations.

Inquire: Know the threats to your community and how to react to them. Ask your child's school about their emergency plans. Bookmark this

web site

for emergency updates and preparedness information.

Inspire: Motivate others. Be a preparedness example by learning basic first aid, joining a Community Emergency Response Team (CERT), and/or talking to friends, family and co-workers about emergency preparedness. Better yet, take a friend or family member along to that first aid or CPR class.
Don't forget to tune into CBS 5 News on June 16 at 7 p.m. to see Monsoon: Eye on the Storm for complete information from the CBS 5 News weather team on what to expect.
Copyright 2014 CBS 5 (KPHO Broadcasting Corporation). All rights reserved.