Tempe PD: ASU grad, mom hit by drunken driver after ceremony
Posted:
Updated: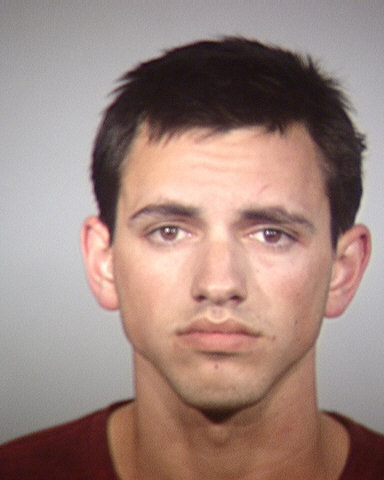 Andrew Merriman (Source: Tempe Police Department)
TEMPE, AZ (CBS5) -
An Arizona State University graduate and his mother were hit by a suspected drunken driver in Tempe as they were walking back from his graduation ceremony on Wednesday, authorities said.
The Tempe Police Department said the investigation revealed Andrew Merriman, 22, of New River was driving a 2009 Ford Mustang and had just left El Hefe Bar on Mill Avenue when he lost control of the vehicle on Fifth Street about 11:30 p.m. on Wednesday. He then struck a mother and son walking on the sidewalk.
Denise Durocher was in town from Idaho to see her son, 30-year-old Anthony Pelot, earn his master's degree when police said Merriman barreled into them on the sidewalk.
"The mother was hit extremely hard and she received some extremely serious injuries," said Sgt. Michael Pooley with the Tempe Police Department.
Pelot was treated at the scene, but his mom wasn't so lucky.
"They're injuries that are going to impact her for the rest of her life," Pooley said.
Merriman showed signs of intoxication, police said, and he was booked into jail on charges of aggravated DUI, aggravated assault and two counts of endangerment.
Police said records showed Merriman's license had been suspended for failing to appear in Surprise City Court.
Merriman had recently gotten out of the Air Force.
Investigators are working to determine how much alcohol Merriman drank at El Hefe and whether any liquor laws were violated by the bar, Tempe police said.
"If they're over-serving, if they're serving to underage, those are things we need to monitor as well," Pooley said. El Hefe thus far has not responded to our request for comment.

The son graduated with a master's degree and plans to move on to an Ivy League school.
Pooley said this is a harsh reminder for everyone in the valley - that graduation season doesn't have to be a dangerous time on the road.
"We know that alcohol consumption is part of the celebration this time of year, but what can be stopped is that decision to get behind the wheel," Pooley said.
Tempe police say they're increasing DUI patrols over the next few weeks.
Stay with cbs5az.com and CBS 5 News for updates on this developing story.
Copyright 2014 CBS 5 (KPHO Broadcasting Corporation). All rights reserved.