Pay it Forward
Scottsdale woman pays it forward to motivational speaker
Posted:
Updated: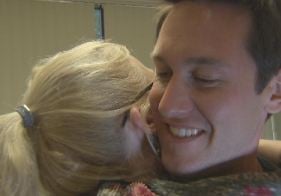 SCOTTSDALE, AZ (CBS5) -
A hardworking young valet has made quite an impression on some local businesses. They want to show him how his work ethic and personal story of redemption have inspired them to pay it forward.
When Laura Weaver first met the valet hustling around her business complex, she had no idea what he had already overcome.
"He'll pop in between cars or I'll sit out in front of my store and we'll visit for a little bit," Weaver said. "He's very humble, he's very thoughtful."
Once on his way to becoming a professional golfer, Gordie Bufton began experimenting with alcohol and drugs in high school, leading him down a dark path of dependency, delinquency, and nearly death.
"You just never know what people experience in their life, you just never know," Weaver said.

Bufton has turned his life around and is now a life coach and author, spending a lot of time with 'Not My Kid,' a non-profit helping at-risk youth.
"He does so much for others and devotes so much of his time and energy into helping others," Weaver said.

Unfortunately, a couple of weeks ago, Bufton was robbed, and a laptop with a draft for his second inspirational book was taken.
"I am absolutely ready to go pay it forward, to a most deserving young man," Weaver said.

We told Bufton we wanted to do a segment on his journey.
"I could either continue the path I was going down which would land me in jail or dead or I could get sober," Bufton told us.
But we had a trick up our sleeve.
"In light of all that you do for others, it's my honor, on behalf of Channel 5's Pay It Forward program, to gift you $500 to help you on your mission," Weaver said.
A good deed Bufton will not let go to waste.

"I'm very grateful that, I don't even call it a second or third chance, I call it a hundredth chance, to use my story to help others," Bufton said.
Bufton will soon be doing motivational speaking full-time. In the meantime he said he'll use that money to buy a new laptop.
Copyright 2014 CBS 5 (KPHO Broadcasting Corporation). All rights reserved.