Phoenix restaurant up for auction
Posted:
Updated: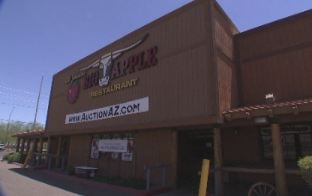 (Source: CBS 5 News)
PHOENIX (CBS5) -
More than 1,000 items inside the Bill Johnson's Big Apple Restaurant at 19th Avenue and Bell Road are going up for auction.
The Valley landmark has closed its doors and will sell everything from collectibles and antiques, to pieces of Western and Native American history, to kitchen equipment and restaurant furniture, to the highest bidder, with no reserve.
"There's a lot of nostalgia for a lot of people in this area and it's a great chance to be able to buy a piece of the place that you and your family used to come to all the time," said George Cunningham with auctionaz.com.
Available items run the gamut from the smaller collectibles, to some bigger ticket items.
"The bar itself will probably bring $15,000 to $20,000, an old 1800's jukebox will probably bring $5,000 to $10,000, and then we've got all these wood-burning stoves which will bring quite a bit of money," Cunningham said.
Some of the strangest items include the world's largest bear trap and a miniature chuck wagon. But whether it's lamps, the swinging doors or even the oxen harness hanging from the ceiling, the list seems endless.
"There's all the arrowheads, the Indian nickels, some of the antique firearms and all the antique daisy bb guns. Just some really cool stuff," added Cunningham.
Online bidding starts Friday, May 16 and ends Wednesday, May 21.
For more information on the auction and available items, CLICK HERE.
Copyright 2014 CBS 5 (KPHO Broadcasting Corporation). All rights reserved.