Fallen Mesa officer a man of many passions
Posted:
Updated: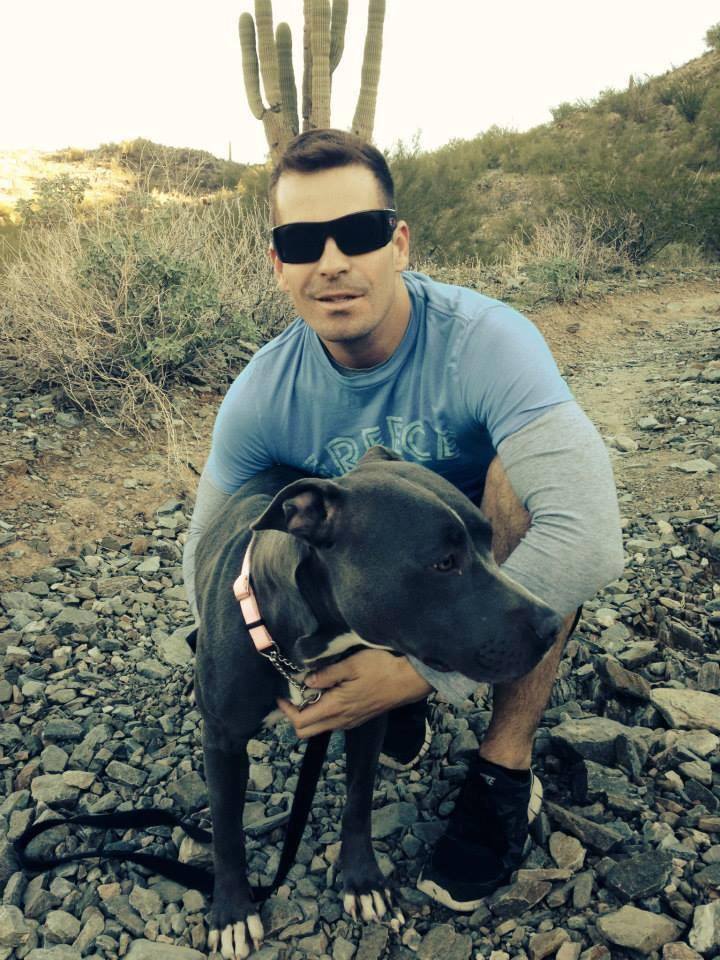 Officer Mendoza with pit bull he fostered.
MESA, AZ (CBS5) -
The loss of Mesa police Officer Brandon Mendoza has left a community reeling, but a community the remembers fondly a man who had many passions.
The 32-year-old Mendoza was killed by a wrong-way driver early Monday morning on a southeast Valley freeway.
"I'm at a loss," retired Mesa police Officer Helen Simmonds said. "The citizens who never had contact with him don't know what they missed. And people who did have contact with him know what they're going to miss."
Simmonds worked with Mendoza for more than a decade and cherished his friendship.
"Everything about him made you laugh," she said. "Even in his serious mode, he was funny. (He) loved his job, and he was a damn good cop."
Not only did Mendoza serve the community as a police officer, he also volunteered his time with several Valley organizations.
"He was definitely one of the good ones," said Chris Cuasula, with the Grant Woods branch of the Mesa Boys and Girls Club. "Besides the police officer part and everything he did through that, he was just a good person. He genuinely cared."
Cuasula said he first met Mendoza a few years ago when they worked together with the Guerrero Rotary Group to clean up the once crime-ridden park and make it a safe place for families.
"The thing that I most enjoyed about him was that he wanted to empower this community, to take it back," said Cuasula.
He said Mendoza also volunteered his time at the Boys and Girls Club - especially during the holidays.
On Thanksgiving, Mendoza would bring turkeys, cook and serve the community meals.
"During Christmas, he would bring presents for the families and for some of the kids that needed it," said Cuasula.
Mendoza also had a soft spot for animals.
Several months ago, he rescued a pit bull he'd found tied to a tree.
Mendoza then saved her again when, after taking her to the county shelter, she was about to be put down due to kennel cough.
"He took her in even though he wasn't sure she would be good with his little doxies," said Chandra Hardenburg who runs Pittie Me Rescue in Gilbert. "He had a heart for helping others, including our four-legged friends."
Mendoza ended up fostering the dog he named Lucy Blu, through Hardenburg's organization, until she found a permanent home.
"He was just a very caring person, human being and did a lot for his community, and it's just a sad day that he's lost his life," Hardenburg said.
A memorial has been set up at Guerrero Rotary Park, where people have placed candles and flowers in memory of Mendoza, a tribute to a man who truly made a difference in that community.
Phoenix Pride also posted a note of condolence on its Facebook page Monday:
"The LGBTQ community lost an amazing friend and role model this morning. Brandon Mendoza was not only an inspiration to his friends and family; he was looked up to by so many in our community for his work as an openly gay police officer for the Mesa Police Department. He will be greatly missed and our thoughts go out to his friends and family during this difficult time."
As of Monday night, the post had nearly 9,000 likes, more than 1,500 shares and nearly 600 comments.
Copyright 2014 CBS 5 (KPHO Broadcasting Corporation). All rights reserved.
Fallen Mesa officer a man of many passions

More>>

Friday, May 16 2014 1:33 PM EDT

2014-05-16 17:33:46 GMT