Votes for Sale? Arizona lawmakers who get the most freebies
CBS 5 Investigates: Lobbyist gifts to lawmakers
Posted:
Updated: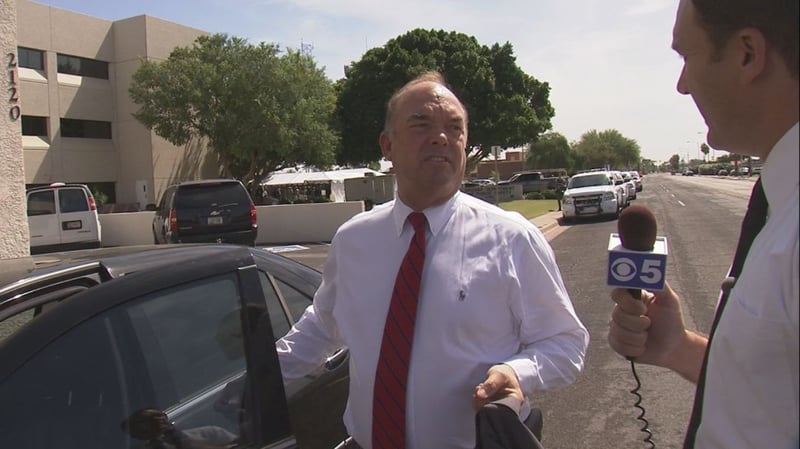 PHOENIX (CBS5) -
In September of 2013, nine Arizona state lawmakers, both Democrats and Republicans, flew to Salt Lake City for an all-expenses paid trip. The Utah-based company that picked up the tab, Imagine Learning, had been trying to persuade state leaders to purchase its English language learning software for use in Arizona schools for three years.
This year, all nine legislators who went on that trip signed on as sponsors of a bill that would have opened up Arizona for Imagine Learning's programs. A contract would have been worth as much as $35 million to the company.
A CBS 5 Investigation found example after example of lawmakers accepting gifts from lobbyists, in the form of meals, drinks and trips, and then sponsoring legislation that benefits the companies that paid for the gifts.
Lawmakers are only required to disclose those gifts worth more than $500. But those gifts account for a fraction of the freebies lawmakers accept. Lobbying records obtained by CBS 5 investigate show tens of thousands of dollars in gifts showered on state lawmakers every year.
Using accounting software and several lobbyist databases obtained by CBS 5 Investigates through a public records request, we came up with totals for each state lawmaker. The effort took more than 100 hours because the data contained duplicate expenses and was archived in such a way that the actual expenses were not connected to any names. The databases used code numbers for the lobbyists and multiple code numbers for each lawmaker.
You can get an inside look at how we broke down the data in the accompanying behind-the-scenes video.
State Sen. Don Shooter, a Republican from Yuma, ranked No. 1 on the list. Since he's been in office he's accepted an average of $1,826 in benefits per year, most of them have been meals and entertainment.
Shooter declined our request to address the issue, or the idea of a gift ban at the state capitol. That effort has failed year after year.
House Speaker Andy Tobin ranked second on the list, accepting an average of $1,820 in gifts since he's been in office.
Tobin is running for Congress this year. His campaign office sent us the following statement:
"CBS5's difficulty in obtaining the expenses of members illustrates an antiquated reporting and tracking issue. Speaker Tobin supports increasing gift transparency to the same standard as Congress. For example, one can see that Rep. Ann Kirkpatrick accepted over $64,000 in free trips in under 4 years just by looking at the U.S. Congress website. Speaker Tobin believes that state leaders should never shy away from promoting Arizona domestically or internationally. Furthermore, improved reporting and tracking would allow voters to decide if their elected representatives are doing what is best for Arizona, or simply enjoying privileges not shared by the public."
Other lawmakers who spoke to CBS 5 Investigates said lobbyist gifts do not affect the way they govern, but a leading behavior scientist at Arizona State University disagreed.
"Elected and appointed officials may believe that certain rules don't apply to them, but the rules of human behavior do apply to them," said Robert Cialdini, Ph.D., who is the professor emeritus of psychology and marketing at ASU and the author of a New York Times best-selling book called, "Influence."
Cialdini said study after study has shown that giving gifts is one of the most effective ways to influence people. You can see his company's website here, for more information about influence. You can also see our extended interview with Cialdini in the accompanying video.
"We know that it's built into us from the beginning, by our teachers, by our parents, by our scout masters. The rule is you should not take without giving in return," said Cialdini.
During this legislative session the bill that would have helped the Utah-based software company failed to make it into law. But deep inside the state budget is a provision that opens the door for the company to bid on a contract with state schools after all.
[FULL LIST: See how much your lawmakers received in gifts from lobbyists]
Copyright 2014 CBS 5 (KPHO Broadcasting Corporation). All rights reserved.
CBS 5 Investigates: Lobbyist gifts to lawmakers

More>>

Tuesday, July 29 2014 12:53 PM EDT

2014-07-29 16:53:00 GMT

5i Poll: Vote on top stories of 2012 5i Slideshows Hiding Toxic Secrets 24 Hours on the Border 5 Investigates Archives 5i Links Scam Alert

More >

5i Slideshows Hiding Toxic Secrets 24 Hours on the Border 5 Investigates Archives 5i Links Scam Alert

More >