Debbie McCune Davis
Posted:
Updated: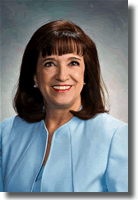 Representative Debbie McCune Davis (D) District 30
Elected: 2002
Total Accepted: $2,750.28
Average Per Year: $229.19
(Based on AZSOS Database)
Debbie McCune Davis was born in Braddock, Pennsylvania; however economic opportunity moved the family to Arizona in 1963. She attended R. E. Simpson in the Alhambra Elementary School District and Orangewood Elementary School in the Washington Elementary School District. During her years at Washington High School, she was involved in a variety of activities at both school and church. She became involved in Student Council during her Junior and Senior year, graduating in 1969.

She began her higher education at Glendale Community College and graduated from Arizona State University in 1975 with a degree in Sociology. During this time she married and started a family. In 1978, Debbie was elected to the House of Representatives at the age of 27. She served as Minority Whip from 1982-1994. After an eight year absence from the legislature, she was elected to the House of Representatives in 2002. In year 2006 she was elected to serve in the Senate. In 2010 the voters returned her to the House of Representatives.

Debbie's key legislative priorities include Education, Health Care, Neighborhood Issues and Consumer Issues. She works closely with neighborhood groups to keep Arizona communities resilient and safe. Ensuring schools and universities have the ability to provide education opportunities for all Arizonans is also important to Debbie.

Today, working as Program Director of The Arizona Partnership for Immunization (TAPI) Debbie has been influential in promoting immunization and preventive health services for all Arizonans. She has been on the ground floor of creating a statewide registry for tracking immunizations of children and adults. Her effective championing The Arizona State Immunization Information System (ASIIS) and immunization registries on a national level was recognized during a celebration of Every Child By Two (ECBT) in 2012. ECBT was established during the Clinton Administration in 1991 to protect the health of children.

In 2010, Children's Action Alliance honored Debbie with the Jacque Steiner Public Leadership Award for Children. Her dedication and courageous leadership to improve the lives and life chances of Arizona's residents is a large part of her work. The League of Arizona Cities and Towns also recognized Debbie as one of their "Legislative Heroes." These "Legislative Heroes" demonstrated their support for local control through their voting records, and have earned the appreciation of the League.

The William E. Morris Institute for Justice recognized Debbie's fight against payday lenders in 2011. As a state legislator, she is consistently a strong voice for consumers and responsive to the needs of low-income Arizonans. The Arizona Bioindustry Association presented Debbie with the 'Trailblazer Award' in 2012.

Debbie and her husband, Glenn Davis, have a blended family of five children and three grandchildren. They continue to live in Central/West Phoenix.
Source: azleg.gov
Copyright 2014 CBS 5 (KPHO Broadcasting Corporation). All rights reserved.