Chad Campbell
Posted:
Updated: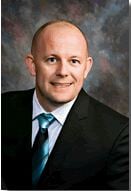 Representative Chad Campbell Chad Campbell (D) District 24
Minority Leader
Elected: 2006
Total Accepted: $4874.19
Average Per year: $607.93
(Based on AZSOS Lobbyist Database)
Biography:
Chad Campbell is a Phoenix native and lifelong Arizona resident. A graduate of Moon Valley High School and Northern Arizona University, Chad is in his third term as a State Representative for District 14, which covers parts of central and west Phoenix.

As a legislator, Chad has been the leading voice in advocating for comprehensive tax reform that would make taxes fairer for individuals and businesses alike, and put Arizona in a much more competitive place moving into the 21st century. He has also led the fight in improving the campaign finance system, working to instill more accountability in private prisons, and cleaning up our neighborhoods by cracking down on graffiti and gang crimes. Chad has received numerous awards for his work with cities and towns, the disability community, and the press for his fight to defend free speech. He has also been recognized for his work on economic development issues, being named one of the "Tech Ten" Legislators of 2008, 2009, and 2010 by the Arizona Technology Council, a Public Policy Champion by the Arizona Realtors Association for 2010, and receiving an Eagle for Enterprise Award from the AZ Small Business Association.

Going into the 2011-2012 session, Chad has been chosen by his colleagues to serve as the House Minority Leader. He is honored by this distinction, and will continue to bring a vision of common sense and pragmatism to the legislative debate in 2011-2012. Chad also serves as the ranking member on the House Appropriations Committee and will serve on the House Rules Committee. In addition to his duties at the legislature, Chad is a private consultant and sits on the Phoenix Environmental Quality Commission.

Source: azleg.gov
Copyright 2014 CBS 5 (KPHO Broadcasting Corporation). All rights reserved.