Brenda Barton
Posted:
Updated: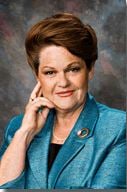 Representative Brenda Barton (R) District 6
Elected: 2010
Total Received: $4315
Average Per Year: $1078.75
(Based on AZSOS Database)
Barton's Response:
With so many significant issues facing Arizona I am surprised that you are focused on what, in my case, amounts to less than a Starbucks a day. This is my challenge to your journalist integrity: I am trusting your ethics to utilize my remarks in the context they are given.
Influence or institutional knowledge: That is the heart of the question regarding the lobbyist role in Arizona government.
This issue is much like a coin; there are two sides and the truth of the matter can usually be found on the edge. We have limited research staff and good lobbyists often stand in the gap by providing the information often necessary to developing good public policy.
Likewise I have found there to be two types of representatives; those who utilize the resources that a lobbyist offers, and those who carry legislation upon request. Unfortunately neither side of the isle, the Democrats or Republicans, has a corner on the later type of representative.
A major contributor to the influence of lobbyists is term limits. The late Senator Jake Flake's long legislative tenure gave him the experience, depth of knowledge, and institutional knowledge to develop good public policy.
Unfortunately due to term limits, the institutional knowledge and knowledge of the issues is term limited now along with the representative. This attrition has resulted in the transfer of knowledge from the legislature to the lobbyist community and research and policy personal.
You cite a figure of $7,315.80 that I have received in benefits over the past four years of my tenure in the legislature, unfortunately you do not define what you consider as a "benefit received" nor how you determined the final sum, nor the context of the benefit. In effect, you are presenting the public through your journalism a black invoice; no itemizations, just a grand total.
Applying your number, exactly how much $7315.80 over a term of four years? Based on 100 days in session and thirty working days before session and ten after session, (140 days per year), $7,315.80 factors to a mere $13.05 per day. How much influence is that really? Not even lunch for two at Denny's.
On a legislator's salary of $24,000 per year, the lobbyist benefits you cite attributable to me total up to $13.05 per day.
Furthermore, anyone who thinks their state representative only works 140 days per year is quite misinformed. I maintain a very active calendar while the legislature is out of session. When considering the days I put in representing my District and the State of Arizona, the lobbyist influence becomes less than a Starbucks daily
The days of the Fiesta Bowl fiasco are no longer with us. Several representatives have been removed from the legislature because of their behavior. As in any activity, there are men and woman of integrity and there are those whose vote is for sale. In our system, it's up to the voters to sift the wheat from the chaff.
Biography:
Born in Safford, Arizona, Representative Barton is a fifth generation native of rural eastern Arizona. In 1871, her great-great grandfather established the first crossing on the Colorado River. In 1880, the family settled in Lee Valley near Greer in the White Mountains. Allen F. Smithson, her maternal great-great grandfather rests in the Lebanon cemetery just west of the family's historic homestead in Artesia where Representative Barton spent her early years.

In the late 1980s, she began her career in public service with the City of Safford. During the end of her tenure with the City of Safford, Rep. Barton led a group of employees in writing the City of Safford's Vision Statement. It was subsequently adopted by the City Council.

By the mid-1990s, public events drew her into political activism and she became an elected officer of People for the West, a land rights group. Representative Barton is a veteran of the Sage-Brush Rebellion that swept the Western Lands States from the 1970s into the 1990s.


Political experience: Graduate, Western Legislative Academy; AZ director, Women in Government; Region III director, AZ Federation of Republican Women; 2009 graduate, Dodie Londen Excellence in Public Service Series; 2008 delegate to the AZ State Republican Convention; precinct committeewoman; president, Graham County Republican Women; legislative chairwoman, Graham County Republican Woman; secretary, People for the West, Graham County Chapter; secretary, Legislative District 8 (Cochise & Graham Counties).

Memberships: Nat'l Council of State Legislators, Heartland Institute, American Legislative Exchange Council, AZ Citizens Defense League, AZ Federation of Republican Women.

Political influence: There isn't a single individual, rather a mosaic of characters and individuals who have contributed to my continuing evolution as a political professional.

Job creation measures: The role of the government is not to create jobs, rather to facilitate a business environment in which job creation may flourish. To that end, we should consider reducing the burden of unnecessary regulations on business and ensure a well-educated and prepared workforce inventory.

Top Issues: Building a strong state economy coupled with the conservation of our quality of life in Arizona.

Representative Barton resides with her husband Bruce in the beautiful rim country of Payson, Arizona. They have two grown children and six grandchildren.
Source. azleg.gov
Copyright 2014 CBS 5 (KPHO Broadcasting Corporation). All rights reserved.