Michele Reagan
Posted:
Updated: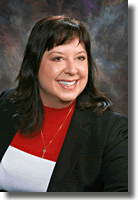 Senator Michele Reagan (R) District 23
Elected: 2002
Total Accepted: $2,304.21
Average Per Year: $192.01
(Based on AZSOS Database)
Biography:
Sen. Michele Reagan was born in Rockford, Illinois, grew up in the Chicago-land area and graduated from Illinois State University. She moved to Arizona with her family in 1991 where they owned and operated FASTSIGNS on Central Avenue in Phoenix for 10 years. During that period, Michele was very active in civic and business organizations and her passion began to want to be a voice for other small businesses in Arizona.

She was elected to the House of Representatives in 2002, where she served for six (6) years as the Chair of the House Commerce Committee. To date, she is the youngest female to hold this position. Michele has also served on the powerful Ways and Means Committee, the Ethics committee, the Environment Committee, and the Banking and Insurance committee.

Sen. Reagan stays involved with the National Federation of Independent Businesses (NFIB), and the Arizona Small Business Association (ASBA). She is a member of several boards, her favorites being the Citizens Action for the Arts, the Scottsdale Leadership Advisory Board, and Scottsdale Foundation for the Handicapped (also known as STARS). She is a founding member of the newly created tourism caucus.

She currently serves as the Chair of the Elections Committee in the Senate, and was recently chosen to be a Fellow for the prestigious Aspen Rodel Fellowship. As an Aspen Fellow, she will be traveling to China, Israel, Egypt, Pakistan and Taiwan.

Sen. Reagan has been listed as one of the most effective legislators several times, and was named the Legislator of the Year by the Capitol Times in 2009. She recently was named one of 50 most Infuential Women in Arizona. She is married, has one step-daughter, three (3) dogs, one (1) desert tortoise, and lives in Scottsdale.
Source: azleg.gov
Copyright 2014 CBS 5 (KPHO Broadcasting Corporation). All rights reserved.