More than 1,300 Special Olympics Athletes gear up for the Arizona Summer Games
Posted:
Updated: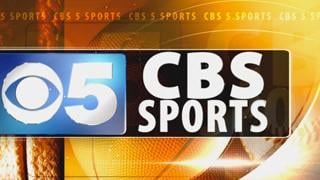 © cbs 5
PHOENIX (CBS5) -
Special Olympics Arizona athletes across the state will compete at the Summer Olympic Games held Thursday, May 1 through Saturday, May 3 at Grand Canyon University. The Summer Games is the largest Special Olympics Arizona event, with more than 1,300 athletes competing.
To kick off the games, over 1,000 fans are expected to rally behind the athletes at the Americana-themed Opening Ceremonies on Friday, May 2 at 9 a.m. at Grand Canyon University's soccer field/track.
"This is by far one of the most highly anticipated events of the year," said Tom Altieri, Big Chief for The Thunderbirds. "The enthusiasm and appreciation these kids have for the games really lights up the event and makes it all worthwhile."
Competition
Athletes will be competing in track and field, tennis, powerlifting, volleyball and kayaking. Kayaking competitions will take place at Tempe Town Lake, and Tennis will be located at Phoenix Tennis Center. Competitions will be held 8 a.m. to 5 p.m. each day. Fans are invited and encouraged to cheer on Special Olympics athletes at any of the weekend's events.
Opening Ceremonies / Law Enforcement Torch Run
Beginning at 9 a.m. on Friday, May 2, the Olympic-style Opening Ceremonies includes a parade of athletes as well as the conclusion of the annual Law Enforcement Torch Run (LETR). Arizona's LETR carries the torch, representing the Flame of Hope, as a symbol of dedication for helping Special Olympics Arizona throughout the state. Prior to Opening Ceremonies, LETR will kick off the final leg of the Torch Run at Wesley Bolin Memorial Plaza at 7:30 a.m. This portion of the Torch Run is open to the public. Arizona's LETR helps raise funds and awareness for Special Olympics Arizona statewide throughout the year.
Learn More About 2014 Summer Games
For more information on the 2014 Summer Games, to register, and for a list of competition times, please visit www.specialolympicsarizona.org.
PetSmart Pet Therapy
Unique to this year's Games, Special Olympics has partnered with PetSmart to provide pet therapy for athletes during state competitions. As a component of the Healthy Athletes program, which offers health services and screenings free of charge to athletes in need, service and therapy animals will be present with trained handlers from Pet Partners and Canine Companions for complimentary consultations. Pet therapy is an integral part of sports psychology, allowing athletes to prepare for competitions by learning techniques to overcome stress within the program.
The Thunderbirds and other Partners
The Thunderbirds — a premiere sponsor for Special Olympics for over 30 years — will spearhead the awards ceremony, ensuring each athlete is honored for their achievements. This renowned charitable organization has raised more than $3 million for Special Olympics Arizona to date, contributing to Summer Games as well as the Special Olympics Young Athletes Program. The Thunderbirds were founded in 1937 with the mission of promoting the Valley of the Sun through sports, such as the Waste Management Phoenix Open. The Thunderbirds consist of 55 "active" members and more than 250 "life" members. For more information on the Thunderbirds or the Waste Management Phoenix Open, call the Thunderbirds office at (602) 870-0163 or visit www.wmphoenixopen.com.
Other generous partners who have helped to host the 2014 Summer Games, as well as events throughout the year include: Parker & Sons Inc., Swift and Fry's.
###
Special Olympics Athletes
For people with intellectual disabilities, Special Olympics is often the only place where they have an opportunity to participate in their communities and develop belief in themselves. For athletes, Special Olympics sports provide a gateway to empowerment, competence, acceptance and joy. The lessons learned in Special Olympics also impact their life skills. Sports training enhances focus and gives participants a structure for learning important lessons about perseverance, endurance and setting goals. Many people are surprised to know, more than half of adult Special Olympics athletes in the United States are employed, versus 10 percent of intellectually disabled persons who do not participate in Special Olympics.
Special Olympics Mission
The mission of Special Olympics is to provide year-round sports training and athletic competition in a variety of Olympic-type sports for children and adults with intellectual disabilities, giving them continuing opportunities to develop physical fitness, demonstrate courage, experience joy and participate in a sharing of gifts, skills and friendship with their families, other Special Olympics athletes and the community.
Copyright 2014 CBS 5 (KPHO Broadcasting Corporation). All rights reserved.