Online dating is growing trend, but is it safe?
Posted:
Updated: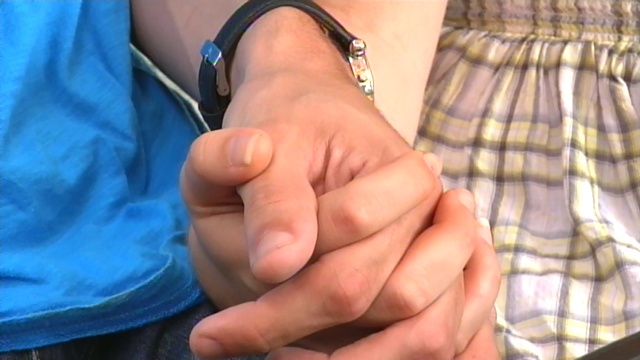 An Upstate couple holds hands (File/FOX Carolina)
GREENVILLE, SC (FOX Carolina) -
The amount of people choosing to try online dating is steadily climbing, but one Greenville woman didn't find her happily ever after.
Pew Research reports that 38 percent of singles are turning to the Internet to find love. One of the biggest online dating sites, Plentyoffish.com, said every day nearly 3.5 million users log in.
"With Plenty of Fish, because it is free, we attract a large number of singles in the area, even areas that might be more remote," said Sarah Gooding, with Plenty of Fish Public Relations.
But not every person finds their special someone, and Lauren Searcy said her best friend's experience with online dating ended tragically.
"She wasn't looking to get married. She was looking for a friend, and that's what she thought she found in Darrell," said Searcy.
Searcy said she watched her best friend, Myranda Southern, and the man she met online begin what seemed to be a fairy tale romance.
"She was extremely happy, she laughed, she was giddy, bubbly Myranda," Searcy said. "From what I could gather, he was making her that way."
According to Searcy, her friend was spending a lot of time with the new man in her life, but five days after meeting him, Southern disappeared.
Laurens County deputies said they found Southern fatally shot and found her body dumped in a ditch along a rural road. They later arrested and charged Darrell Raines with her death - the man who was supposed to be Southern's new boyfriend.
"He absolutely had us fooled, I feel especially bad because I blame myself because I should have seen something, I should have seen something wrong," said Searcy. "But I was so happy that she was happy."
Plenty of Fish said they do issue safety precautions to their users. The site does advise people not to meet someone from online in a private area. Searcy said she wishes her friend had followed this advice.
"I would not wish what we've had to go through, her family and her friends of Myranda has had to go through on anyone," Searcy said.
Despite warnings from people like Searcy, the romance industry continues to grow. Even Upstate businesses, like Dating in Greenville, said they can help you find the one but in a strictly different way.
"We meet with everyone in person, do a criminal and martial background check," said a representative of Dating in Greenville.
Dating in Greenville is new, but with locations in Charlotte and Columbia as well, they already have 3,500 members.
They said meddling a traditional dating service with the new online love trend, their clients must pass a background check and marital check. Users' photos are taken courtesy of a professional photographer with the service. Then they can search on their exclusive site for other Dating in Greenville members who passed their tests.
So would Raines be approved for a dating service like Dating in Greenville? He has several fraud charges dating back to 1999, and according to their requirements, he would be denied service.
"We want to make people feel good about the fact that we do make people accountable and I think people that do show up don't have anything to hide," said a representative of Dating in Greenville.
But traditional online dating services, like Plenty of Fish, have one leg up on local businesses that charge users. Online offers users more people to connect with. But whether the service is local or online, romance experts all have a similar message: Be careful when you are meeting someone new and take time to get to know the man or woman that could be "the one."
As for Raines, he has not yet been tried in the death of Southern. The solicitor said they do have video surveillance and cell phone records that prove he is guilty. He is expected to go to trial this year. Raines' family said they are not ready to comment but previously said they believe he is innocent.
Copyright 2014 FOX Carolina (Meredith Corporation). All rights reserved.