New app scans social media for indicators of various illnesses
Posted:
Updated: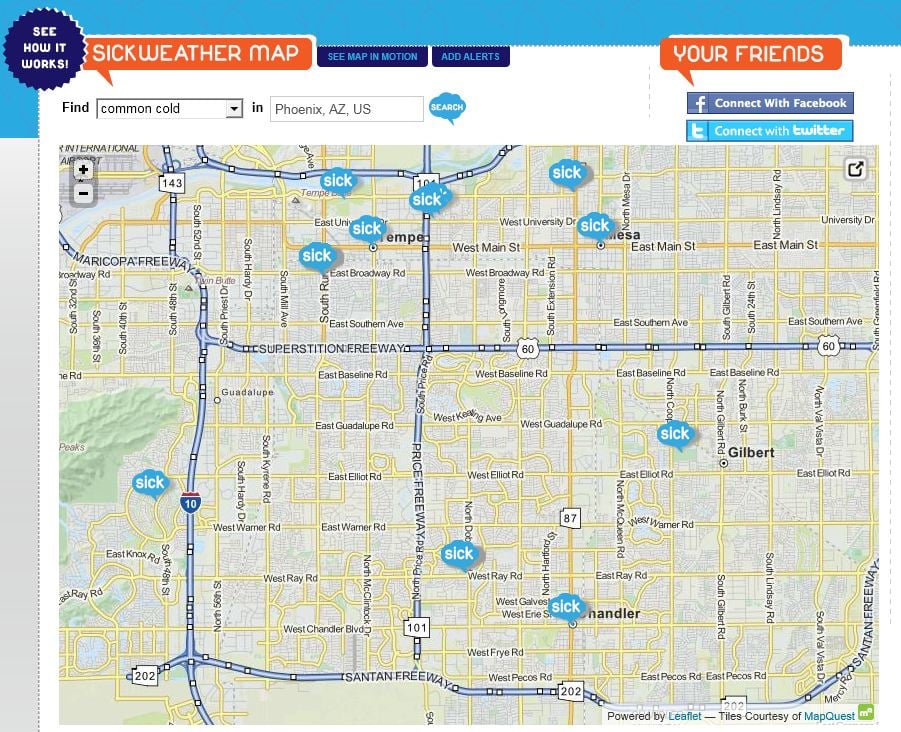 Courtesy: sickweather.com
PHOENIX (CBS5) -
Want to know if allergies are a problem in your area? How about the flu? Or the common cold? A new app, called "Sickweather" may be able to help.
"We use a patent-pending process that distills this information from social media, sites like Facebook and twitter," said Graham Dodge, CEO of Sickweather.
The app uses an algorithm that identifies key words in social media posts.
"When people say things like 'I have a fever,' we're able to qualify that and plot it on a map in real time. Whereas if someone says 'I have Justin Bieber fever,' we're able to disqualify that and not include that on the map," Dodge said.
A Valley allergist says this could be a useful tool, but is concerned about identifying specific ailments based on a social media post.
"I think it's hard to interpret those types of sources. It certainly could represent viral illnesses, could be allergies, but without better data, it would be hard to rely on them," said Dr. Duane Wong with Arizona Allergy Associates.
Sick weather says they're not trying to replace clinical or traditional resources, such as a visit to your doctor.
"Our allergy data is really just a representation of how allergies are affecting a population," added Dodge.
So far, over 30,000 people have downloaded the newest version of the app.
"A lot of people like that we're able to take something that people are already putting out there on social media, and repackage it and give it back to the people as helpful information," said Dodge.
At this time, Sickweather is only available on the iPhone. Dodge said he hopes to have an android version in the near future.
For more information on Sickweather, CLICK HERE.
Copyright 2014 CBS 5 (KPHO Broadcasting Corporation). All rights reserved.