UPDATE
Arizona Gov. Brewer vetoes 2 gun bills
Posted:
Updated: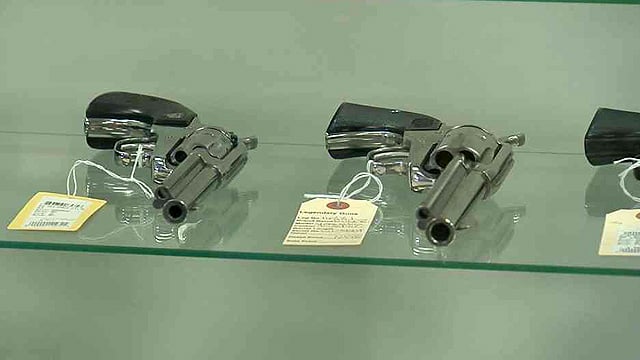 Arizona Gov. Jan Brewer has vetoed two major pro-gun bills on Tuesday. (Source: CBS 5 News)
PHOENIX (CBS5/AP) -
Arizona Gov. Jan Brewer has vetoed two major pro-gun bills that would have allowed concealed-carry permit holders to take guns into government buildings and would have punished municipalities that enact gun ordinances stricter than state laws.
While dozens of bills passed by Arizona lawmakers were piling up on Gov. Jan Brewer's desk, she used Tuesday afternoon to review the bills behind closed doors with her staffers.
The clock expired on seven bills whose fate must be decided by midnight Tuesday. A stack of more than 70 bills will reach their deadline Wednesday at midnight.
The governor must sign a bill or veto it within five days of it being transmitted to her. If she takes no action on a bill, it becomes law without her signature.
Two of the more higher profile bills were the pro-gun bills.
HB 2339 would have allowed those with valid concealed carry permits to carry a firearm on them at most public places and events. Examples include public libraries and public pools. Exemptions include schools, universities and major sporting arenas.
The other gun bill, HB 2517, would have allowed for fines up to $5,000 to be imposed on cities, local governments and counties that enact any ordinance or rule or tax that are more strict than the state gun laws.
Mark Kelly, co-founder of Americans for Responsible Solutions and husband of former U.S. Rep. Gabrielle Giffords, praised Brewer for her vetoes. Giffords was wounded and is still recovering from her injuries in a mass shooting in Tucson in 2011.
"As Arizona residents and gun owners, Gabby and I applaud Gov. Brewer for vetoing these two misguided bills that would have made our communities less safe," Kelly said in a statement released Tuesday night.
"By taking away the power of our local leaders to decide when to allow guns in public buildings and penalizing leaders who act in their community's best interest, these two bills were an affront to our local elected and law enforcement officials."
Kelly said the state needs laws "that balance our Second Amendment rights with our responsibilities as gun owners. These two bills failed to strike that balance, and we commend Gov. Brewer for recognizing the need for commonsense, moderate solutions to reducing gun violence."
Copyright 2014 CBS 5 (KPHO Broadcasting Corporation). All rights reserved. The Associated Press contributed to this report.