Beware of rattlers during Easter egg hunts
Posted:
Updated: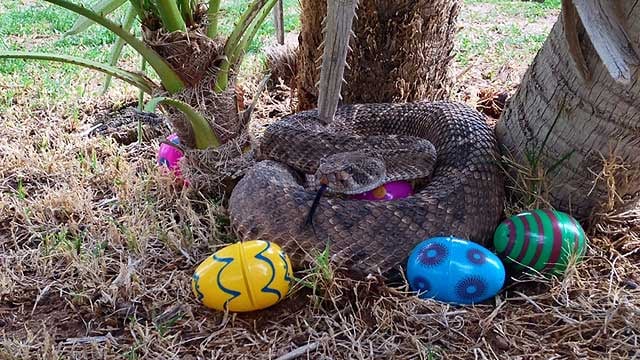 Rattlesnakes like to lie in the same places that make good hiding spots for Easter eggs. (Source: Phoenix Herpetological Society)
SCOTTSDALE, AZ (CBS5) -
Springtime warmth makes a perfect day for Easter egg hunts. It also means a greater presence of rattlesnakes.
The Phoenix Herpetological Society said it has relocated nearly 20 rattlesnakes from area properties in recent days and that five people in the Phoenix metro area have been bitten by rattlers.
With Easter weekend approaching, the PHS recommends to avoid hiding eggs in spots that are likely to be used by rattlesnakes.
The PHS offered the following tips for a safe Easter holiday:
Don't hide eggs on the ground where children will have to reach where they can't see. That includes under bushes and rocks, behind flower pots, or under pool toys.
Snakes especially like to curl up in shady damp areas, such as under plants with drip systems, during the day, so those areas should be off limits.
Instead, hide eggs off the ground, such as in tall flower pots or hanging baskets, and on decks, or outdoor furniture.
If you do find a snake, walk away and don't try to move it yourself. An estimated 80 to 90 percent of rattlesnake bites happen when homeowners try to deal with the snake themselves.
What to do if bitten by a rattlesnake:
Call 911 and stay calm.
Keep the bitten area still. You can immobilize the area with an improvised splint made from a board, magazines, or other stiff material tied to the limb (but don't tie it too tight because you don't want to reduce blood flow). Remove any jewelry or constricting items near the affected area in case of swelling.
Elevate the extremity that's bitten.
Do not:
Drive yourself to the hospital.
Use ice to cool the bite.
Cut open the wound and try to suck out the venom.
Use a tourniquet. This will cut off blood flow and the limb may be lost.
PHS said there are at least 13 species of rattlesnakes and a few other types of venomous snakes in Arizona.
Copyright 2014 CBS 5 (KPHO Broadcasting Corporation). All rights reserved.