Sun Devil WBB announces the signing of Peace Amukamara and Tiare Kanoa
Posted:
Updated: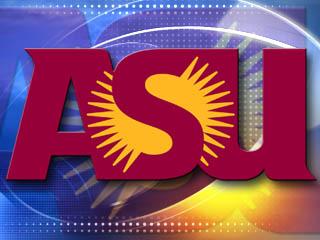 © cbs 5
PHOENIX (CBS5) -
Arizona State University head women's basketball coach Charli Turner Thorne today announced that Peace Amukamara and Tiare Kanoa have signed letters of intent to study and play basketball at ASU.
"We are thrilled to announce the addition of Peace and Tiare to our program," said Turner Thorne. "They are both unselfish, hardworking and tough young women who are positioned to impact our program right away. They should not only solidify our backcourt for the upcoming season but will also bring the kind of high character that has been a mainstay of our program. We are excited to have both players join our Sun Devil family."
The younger sister of current Sun Devil guard Promise Amukamara, Peace, a 5-7 guard, will be transferring to ASU from Mesa Community College where she is coming off a virtuoso season in which she earned NJCAA All-American honors and helped lead MCC to its first NJCAA DII Women's Basketball national championship in program history. On Tuesday, Amukamara was named the NJCAA Division II Player of the Year for a sophomore campaign in which she led the team in scoring (14.1 ppg) to go along with stellar per-game averages in rebounds (5.6), assists (4.9) and steals (2.2). Amukamara proved to be clutch in the Thunderbirds' run to the national title as she posted her first career triple-double (23 points, 10 assists and a career-high 13 rebounds) in the semifinals before recording a career-high 28 points and 11 rebounds in the championship game. She would go on to be named MVP of the tournament. As a freshman, Amukamara earned second-team all-Region I and third-team all-ACCAC recognition in helping Mesa reach the national championship game.
A 2012 graduate of Goodyear Millennium, Peace was all-state honorable mention as a senior. She started her high school career at Glendale Apollo where she and Promise were a part of the Class 4A Division I state title team in 2010-11.
"Peace truly took her game to another level her sophomore season at Mesa Community College," said Turner Thorne. "She was able to combine consistent scoring and playmaking with tenacious defense to become one of the best junior college players in the country."
Added MCC head coach Kori Stephenson, "Peace is one of the most competitive players I have ever coached. That competitiveness helped her reach her goals and our team goals. We are excited to see her continue her career as a Sun Devil."
A 5-7 guard who will be coming to ASU from Honolulu, Hawaii, Kanoa totes an outstanding resume of accomplishments that includes winning state titles in both Hawaii and California (where she started her high school career). As a junior in 2013, Kanoa's play helped guide her Kamehameha High School team to a perfect 21-0 record and the Division I state title. She earned all-state distinction and would go on to be named the Most Outstanding Player of the state tournament. Kanoa's play was especially vital in the championship game as she scored 16 points to help lead her team back from a 20-point, second half deficit to secure the title. Kanoa's success from her junior season carried over to the start of her senior season as she averaged 14.4 points, 4.0 assists, 4.0 rebounds and 2.0 steals before a knee injury ended her campaign after eight games.
Kanoa began her career at La Jolla Country Day, where she started as a sophomore and played a pivotal role in helping her team to a 32-1 record and the California Division IV state title. Her decorated season included 2012 all-league second-team recognition and the CIF Div IV Regional Sportsmanship Award. The aggregate record of the two championship teams Kanoa played on her sophomore and junior seasons was 53-1.
"Tiare Kanoa is a tough, smart, talented guard who is a proven scorer and creator," said Turner Thorne. "One thing that absolutely stood out when we started recruiting Tia was that she has always been a part of winning teams. She is an awesome competitor who is driven to be the best at everything she does. We are proud to share Tia has been accepted into ASU's Barrett Honors College."
Added Darold Imanaka, head coach at Kamehameha, "Tiare is a pure basketball player, who combines a high IQ and knowledge of the game with an incredible work ethic. More importantly, she is an incredible person."
Amukamara and Kanoa will be joining a signing class that includes standouts Ayanna Edwards and Nicole Iademarco, who signed with ASU last November.
The Sun Devils are coming off their 14th postseason appearance in the last 15 years after advancing to the second round of the NCAA Tournament. Nine players, including three starters, return from the squad that went 23-10, finished tied for fourth in the Pac-12 and was ranked as high as No. 11 in the AP poll during the regular season. The 2014-15 season will be the 18th at Arizona State for Turner Thorne, who is No. 2 all time in the Pac-12 in career wins.
Copyright 2014 CBS 5 (KPHO Broadcasting Corporation). All rights reserved.