Services dear to citizens on the 'chopping block'
Posted:
Updated: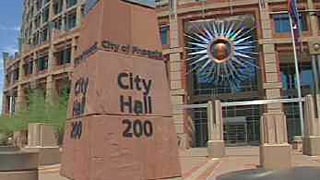 PHOENIX (CBS5) -
There's no place Sunnyslope High School students would rather be on a Saturday morning than Phoenix's gutters.
"Our team is called the 'Tunnel Rats,'" said Daniel Cotter, a senior at Sunnyslope and the school's president of the National Honor Society.
"All we do is we sweep out debris and trash," Cotter added.
Once a month, Rep. Kate Brophy McGee (District-28), Sunnyslope students and their advisors are better known as the "Sunnyslope Graffiti Fighters."
"We clean up and prevent blight and graffiti within the area around Sunnyslope High School," McGee added.
Their supplies and equipment are funded by the city of Phoenix's "Graffiti Busters" program. It's a community service they view as indispensable and not one that should be up for elimination from the city's budget.
"If it's on the chopping block I would say that that's awfully short sighted. It is a nationally, even internationally recognized program," McGee said.
Phoenix city manager Ed Zuercher doesn't deny that, but says cuts need to be made.
"All the services that are on the list are "important." We don't have any "unimportant" services left. They're all important to somebody and to the community. And so that's why we're working really hard right now to find ways to balance the budget," Zuercher explained.
But even if that is at the "graffiti busters" expense, Thomas Birk, a Sunnyslope High School teacher at Saturday's clean-up even, says, "I actually think we would probably still do it cause we've done this kind of thing for years."
Copyright 2014 CBS 5 (KPHO Broadcasting Corporation). All rights reserved.